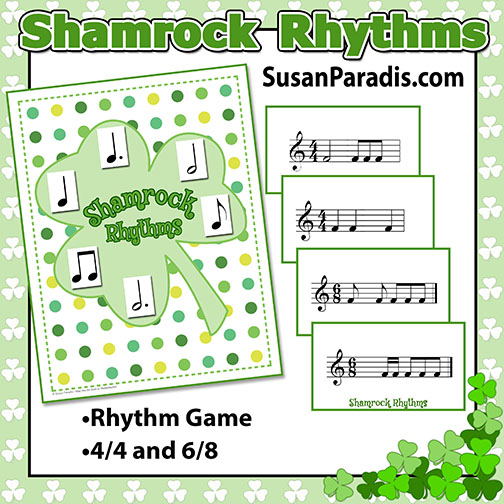 This is a remake of a very old game because I wanted to add a page of 6/8 rhythms and also update the art. This is a very fast activity with very simple instructions and good for older students.
There are 3 pages in this PDF. The cards have one beat missing in a measure and students have to identify the missing note.
Have you ever had an adult tell you they took music for years and never learned how to figure out rhythms? This happens not only to students who take performing classes such as band and choir, but also students in private lessons. Many times we think our students can count when actually they are just really good at learning rhythm by ear. This game will identify students who need some extra help.
Objective
To review 4/4 meter
To review 6/8 meter
To reinforce counting rhythm
Material
Shamrock Rhythms game board, printed on card stock
Rhythm cards printed on perforated business card paper or card stock
Directions
Place the cards upside down near the game board.  The student will draw a card and place it on the note or notes that are missing in the measure.
If a quarter note is missing from a measure in 4/4 time, students may put it on either 2 eights or the quarter note.
Optional
Use your phone clock and time the student.
Print more game boards and cards and use at a group lesson.
Use as a file folder activity.
Hand draw extra cards.
Please follow and like us: