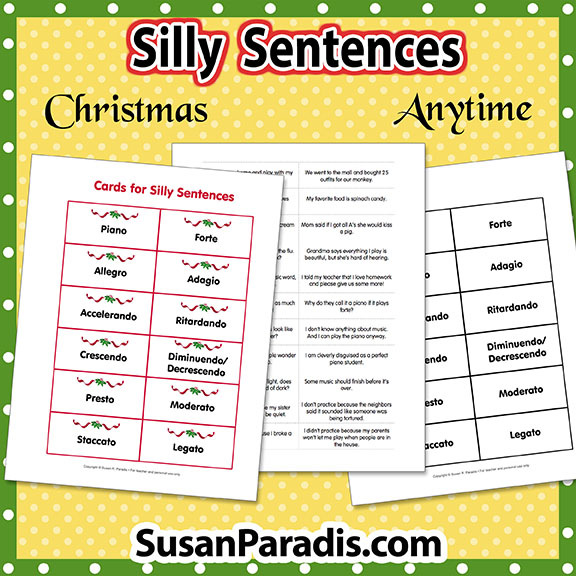 Silly Sentences Vocabulary Game
My students said this was their favorite game at our recent group lesson. It is very simple. Print and cut out all the cards. Put the vocabulary/musical expression cards in one bowl and the silly sentences in another bowl. Choose your sentences to go with your age groups. The first few sentences are good for younger children but  I didn't use those with my older students.  You don't have to use all the cards when you play  because you don't want the game to be too long.
Here are the directions. Cut out the cards and put the sentences in one bowl and the music vocabulary cards in another. Make a list of the vocabulary words that you will be using for the group and post it so all the students can see it.  This is optional for high school groups.
The first student will draw a sentence card and a vocabulary card. Without telling the group the vocabulary word, he has to read the sentence using that musical expression.  Then students have to guess what expression is being used. Then you chose another person to be the reader. In some of the groups, the student who drew did not know the what the word meant. So I took him to a private place and told him the definition. That is fine with me, because a lot of students knew more vocabulary when they left than when we started!
This file contains cards for a Christmas season group lesson and another set for any time of the year. This is fun at a Christmas party! Have fun!
Please follow and like us: