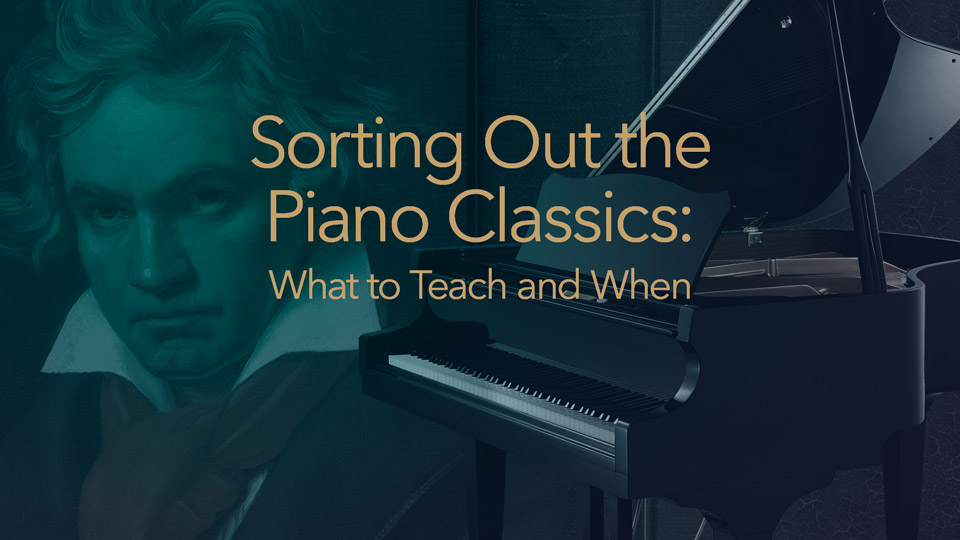 I'm proud to announce I am an affiliate for the Piano Teachers Academy. If you have ever wished you could attend Elizabeth Gutierrez's workshops but lived too far away, now is your chance to attend online in the comfort of your home. I would like to invite you to attend her online course: "Sorting Out the Piano Classics."
Elizabeth is my friend, but more than that, she has been a mentor to me as a piano teacher for years. She is the piano teacher's piano teacher. Not only has she taught piano pedagogy at the college level and given many workshops, she also teaches private piano students. Elizabeth knows how to explain things and she knows what works. She has a knack for giving practical advice that you can easily carry over to your lessons.
This workshop is for piano teachers who want a guide through teaching the classics. So many times I would like to give a classical piece to students but I'm not sure if they are ready for it. There are books but they only give a list, not a discussion on how to teach the music. There is great music out there that students throughout the ages have enjoyed and we owe it to our students to expose this music to them. I polled my students and over half of them said they wanted to play classical music. Students often go through stages with what they like, and when the time is right, we need to be there for them.
I was fortunate that my piano teacher introduced me to classical music early. I fell in love with it. My teacher even called up my mother to tell her I was "special" because I appreciated good music. Well, I don't think I was special. I enjoyed all kinds of music, and good music is good music. One minute I was playing Bach and the next I was playing pop music with lead sheets. But there was something special about the sound of the classics and how the notes fit under the hands that I enjoyed. But if my teacher had not introduced me to classical music at an early age, I don't know if I would have majored in music.
Elizabeth's course has over seven hours of video that will guide you through teaching classics at all levels. There are demonstrations on how to teach the most common classical pieces as well as some lesser known music. She will give you tips that you can use right away with your students. The course includes handouts to match pieces with the method books students are in, as well as other helpful handouts.
When I signed up for the course, Elizabeth told me teachers will have lifetime access to the videos and the hand outs. That means I can go back and watch it again if I need a review or lose a handout.
Right now the course is offered at the introductory price of $120.00 until October 1, so don't wait to check it out!
Here is how to view a free sample class.
Click my link here.
When that opens, click on the image.
Scroll down to "Class Curriculum." Click the small down arrow under the 3 modules (before the FAQ).
This will open the entire curriculum. Scroll down to "The Black Hole: What to do at the Intermediate Level.
The third chapter is free. Click the "Preview" button.
Please follow and like us: