Here are some ideas for St. Patrick's Day that I have posted over the years. There are activities for notes, rhythm, piano keys, composing, and a game that covers intervals, notes, and vocabulary. I hope you find something useful!
St. Patrick's Day Composing Activity
There are two composition pages, one for pre-reading students (or just very young children) and  a grand staff version.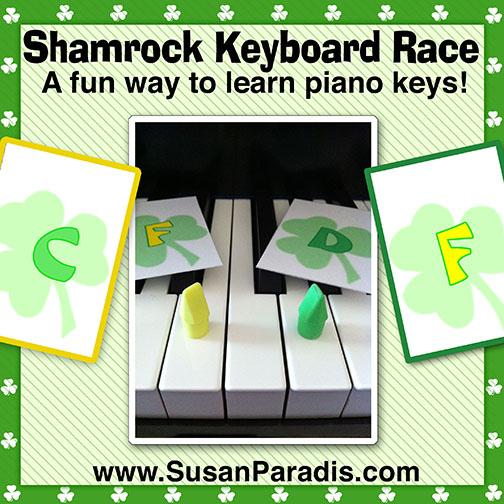 I've found the above game to be the best game to reinforce the names of keys. Plus, I've made this game with lots of different graphics so if you want to play it at different times of the year, there are other versions as well.
The link above will take you to the instructions on how to play this versatile game. The game includes cards for intervals, vocabulary, notes, and keyboards. That makes this a general, all-purpose game. If you like all-purpose games like this, check out RoboRama, which is a really fun year-round game, and a little different.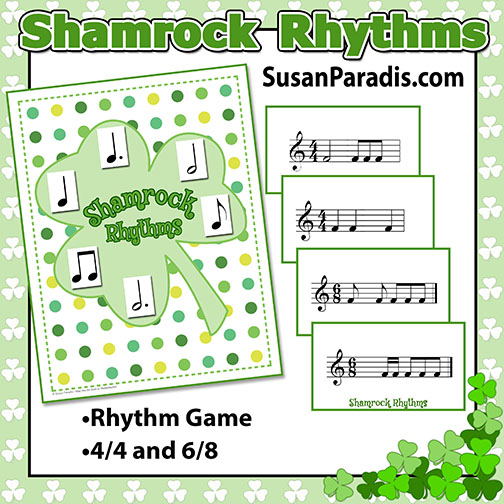 The above rhythm game is the one I've remade several years ago to look colorful, but not use too much ink. This game is good for older students. There are cards for 6|8 also!
The above worksheet includes 3 different versions for students to label notes that look that shamrocks. The ones in color work great on an iPad! There is a black and white version, also.
Clover full of notes is one of my old worksheets that I also remade to use less color ink. I should have kept the old one because this is a great worksheet for your iPad. And you don't have to limit it to St. Patrick's Day, because clover grows year round, after all! There is also a black and white version.
That about rounds up my St. Patrick's Day material.  Adding all these links can be confusing for me. If you find any broken links, let me know. I hope you have you have a great week!
Please follow and like us: