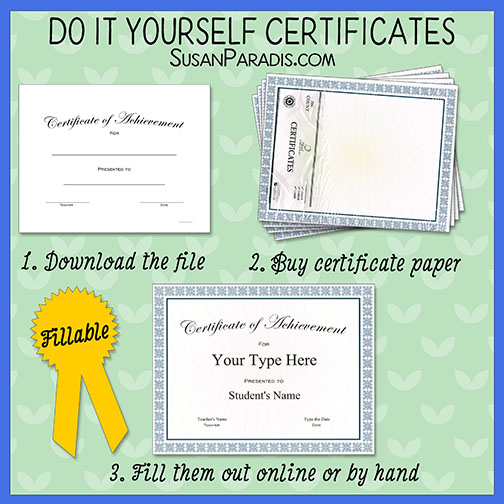 Traditional Certificate With Lines – Write by hand on the lines.
Traditional Certificate Fillable – Type your text in Adobe Reader and print.
I found a really good sale on certificate paper, the kind with a traditional border where you write or type your own wording. You can buy it on Amazon or any office supply store.
I made 2 versions of a template for you. One has lines for writing by hand, and the other uses Adobe Reader to type in your preferred words.
These are very traditional looking certificates, so you can use them with older students and even adults. They are great for teachers who don't have a color printer.
The "fillable" certificate has blue fields in Adobe Reader that appear if you click your cursor in the correct area. After selecting the field, your cursor will show you where to type your information. Adobe Reader doesn't allow you to use your own fonts or to resize the fonts  at the time of this post.
I certainly hope I haven't made any mistakes this time! If you find any, please let me know right away! Thanks!
Please follow and like us: