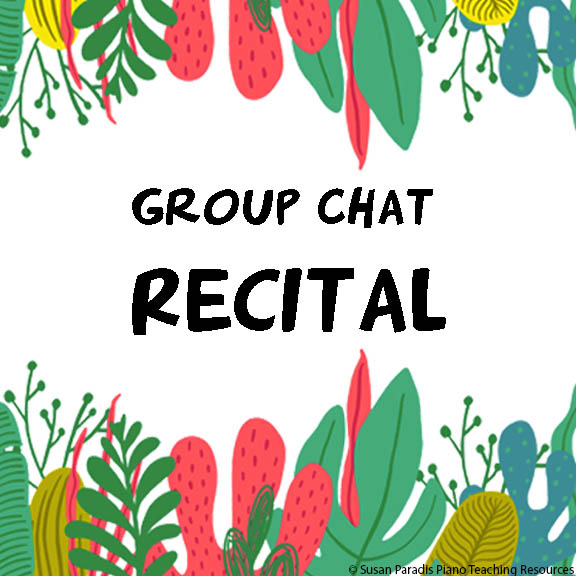 For many of us the thought of having a traditional recital have vanished as we spend more days on lockdown. The beautifully polished performances, the professional bowing, smiling, and playing with all the artistry their little and big hands and hearts can muster will have to wait. The pretty suits and dresses, cookies, photos, flowers, awards, and all that, is for another time. We will have to make do or do without.
I have a suggestion that maybe you have thought about, and it's certainly worth a try with at least a few students. There are many people out there who are discovering the joys of group chat to stay in touch. Whether by Facetime, Google Duo, Skype, or some other method, it's really easy to add family members to a video call. In my family we've had several video chat birthdays, complete with everyone singing Happy Birthday and blowing out a candle at the same time. While I've only tried group chat with Facetime, I have heard that Google Duo, which is a free app for Android and iPhones, is just as easy. If you've thought about having a group chat recital, here are some suggestions:
Be sure to discuss this with parents and get their permission for their child to attend a group chat, since this will mean sharing some personal information. Some parents, especially of younger children, may decline.
Keep it short. No student or parent wants to be stuck watching a million kids play their recital piece. I think about 6 short pieces or 3 really long ones is enough. You may have to have several sessions.
Group students by age, not more than 2 grades apart if possible. Younger students will need a parent to be in charge.
Everyone who is not playing should mute their microphones. While performing, the student will need to unmute his/her microphone and then mute again when finished. This will make a BIG difference in your group chat recital experience.
I think inviting grandma or other non-students is not a good idea, depending on how close your community is. I suggest only having students at this time. If students want to share with relatives, they can make a video playing their piece.
Ask parents to take over the device when it is their student's time to play. They should be about 6 feet away from the performer so the viewers can experience the performance and not just see the hands or face.
Practice with the parent and student beforehand when there is no audience. The parent will need to feel comfortable.
Let every student know the order of the recital so there are no surprises about who is going first. In other words, plan your video chat the same way you plan your recital. A program you can email to them would be a nice touch.
Be relaxed but controlled. You will set the mood.
Practice using the group chat app several times before your first actual recital so you will know how to add and mute students.
Let me know if you have a successful group chat piano recital! Many of your students are old hands at this. But remember, we learn and grow by trying different experiences!
I would like to thank all of my wonderful readers who discovered I was unable to attend the webinar with Elizabeth Gutierrez. My voice was completely gone due to an adverse reaction to some medical treatments. I was there listening, and it was a good webinar with the readers sharing tips on successful piano ideas. What a creative community we have and I cherish all the friends I've made since I started this blog 16 years ago!
Please follow and like us: