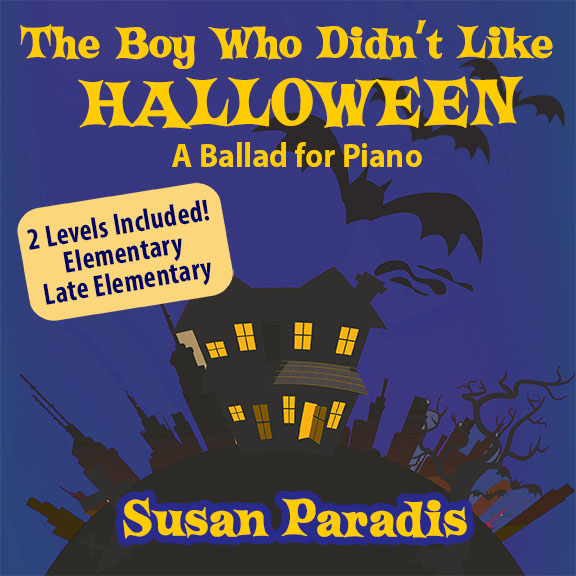 The Boy Who Didn't Like Halloween  $3.99  Two Versions, Three Scores Included
Unlimited Printing Within Your Studio
Level One Version mp3 with Duet
Students Love Halloween Music!
They also like funny songs. The Boy Who Didn't Like Halloween is a child-centered piece for students from first to fourth grade. I wrote it like a ballad, so I tell my students it is a song to play on the piano. The words are funny and my students laughed out loud.  I based the words on things my students have said over the years, so I think they can relate. Of course there is a happy ending!
As a side note, I tried so hard to remove the 8th notes from Level One.  But since the words are the rhythm, I just couldn't make it work. And frankly, this song is all about the words. I suggest if the 8th notes are bothersome in the Level One version, either teach the rhythm by rote or change the eighths to quarter notes.
Two Levels Are Included 
I thought several of my students at different levels  would enjoy this, so I wrote it in a Level One and an easy Level Two version. The versions are in different keys to fit the levels. I also wrote a teacher duet to go with the Level One version. But instead of writing a hard-to-read duet on one staff that even my parents with years of piano lessons have trouble with, I wrote it on two staves so that it is easy for parents or an older student with a few years of piano to play along.  Also included in an ink-saving cover which I put on the front page using the "fast" setting on my printer to save even more ink. I think a little art helps with artistry. Please note that the accompaniment (duet part) is for the Level One version only, but both versions are stand alone pieces that can be played solo at recitals.
This is a studio license, so a single teacher can make unlimited copies of each level. 
Please follow and like us: