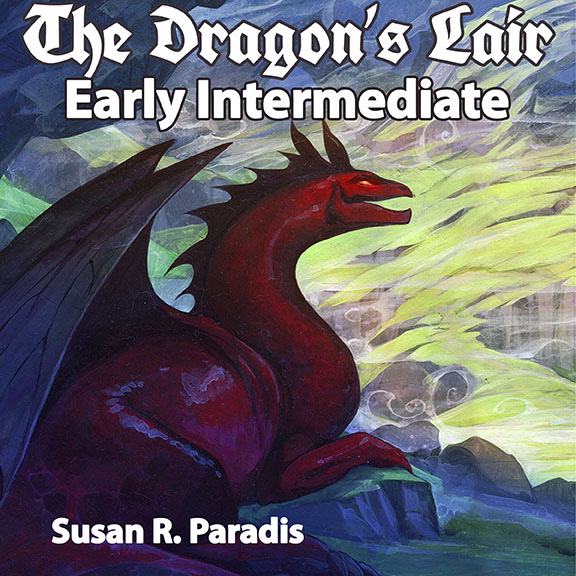 The Dragon's Lair $2.99
All the music in my store comes with an unlimited printing license within your personal studio.
One time I had a boy who really liked playing piano, but I couldn't find anything he wanted to play. He was at that middle age, where he thought anything with "words," as he said, was babyish, but he wasn't really interested in pop music yet. He struggled technically and we had gone through all of the teaching pieces that I usually use. So I wrote this for him and he really thought it was fun to play. This is another "easy, sounds hard" piece that we often need at this level. I've labeled it Early Intermediate because of some scale fingering, finger changes, and fast-moving position changes. Recently I went though the music more carefully, revised the articulations, and added a cool cover drawn by a game artist.
The Dragon's Lair is a 3-page piece written in D minor. The energetic first section contrasts with a mysterious sounding middle section. I  added some extra fingering in some of the tricky spots. Students can explore dynamic coloring and articulations as they play this piece just for fun. This is a student favorite for all ages!
I think this is a good festival piece because the articulations and dynamics give the judge a lot to listen for. It also makes an impressive recital piece.
If you are in need of this kind of music, head on over to my store to see a sample page! If you like it, please leave a review.
*Email me if you need a written release for a festival or recital.
Please follow and like us: