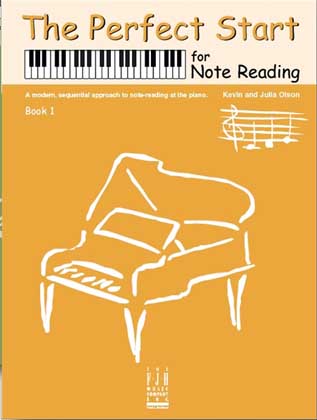 I like to review material that takes a different approach to teaching because I think there are always new ways to reach our students.  When I saw Kevin and Julia Olson's new book The Perfect Start for Note Reading, Book 1, I was immediately interested in checking it out.  Kevin Olson is a well-known and accomplished piano composer so I was curious to take a look at what he and his wife, Julia, would put in a beginning book.
In the preface, it states that The Perfect Start is created "to give the beginning student a solid foundation for note reading and is designed to supplement any piano method." How many times do we use an excellent method book  only to realize down the line that the student is not making progress. At this point we often look into supplemental music and we don't want another method book that starts back in the pre-reading stage. What we need is  a book of sequential pieces that are simple, with easy rhythms, cleanly engraved so not to distract from note reading, and,  finally,  non-frustrating so the student will not give up.  Students who have trouble reading music need to feel successful.  All children learn at different rates, and some need more help than others. Teachers tell me all the time that a student has finished the Primer and not ready to go on and ask if I can suggest a book. This book is the perfect solution.
The rest of the preface suggests who might benefit from this book:  "The young beginner, the busy student, any student who might need reinforcement, and for sight reading".
The other day I took the time to play through each piece and the teacher duets. The first thing I noticed is that this is not a method book.  There are no pre-reading pieces, but there are 7 pages of introductory material that review all the beginning concepts of music.
The pieces are short, 8 measures in length with  staves on the large side, but not too large for an older beginner.   The  illustrations, by Julia Olson,  are stylized black and white  drawings with light orange shading appropriate for all age levels.  There are clever lyrics to help with rhythm that can be used for all ages.  If you are looking for a colorful book with teddy bears and pink ponies,  this is not the book.  A slow learning older student will not be embarrassed because this does not look like a baby book.   The pages are clean without a lot of expression markings to confuse students.
The first notes introduced are middle C and D. Six pages are devoted to those 2 notes, so the student receives a lot of reinforcement.  There are 6 pages that use only C, D, and E. I can tell you that it is not easy to come up with appealing music using only 2 or 3 notes. I have tried it! Of course it is the teacher duets and  lyrics that must sustain interest, and this book  does that!  The teacher duets are full of the interesting harmonies Kevin Olson is famous for in his more advanced compositions. I enjoyed playing the duets and they are easy to follow along with the student. There is another thing I noticed about the teacher duets. Most of the time the rhythm cleverly follows the student's rhythm to help the student  and not confuse him. I don't know if this was done on purpose, but I suspect it was.
By the end of the 80 page book the student is playing a fifth above and below middle C. That makes this  one of the most thorough early elementary books I've come across. If you use this book along with a good selection of games,  worksheets, a solid method book, technique material, and some other simple supplementary music, I believe your student will be a lot more secure in note reading.
I know the next question you would like to ask is it a middle C position book. The answer is yes and no. Every piece has a notation at the bottom that tells you where to place the fingers after learning the piece in middle C position. Remember, this book is designed to keep students from becoming frustrated and giving up. Let's face it, some students need this security.  Learning the piece in middle C and then playing it again with the third finger on D, for example, will give the student confidence to branch out of middle C position.  In the book it states, "Hand positions are only 'guides". They help you feel comfortable learning new notes. Once you are comfortable, you should explore your pieces further by starting on a different finger."
When I decided to write a post on this book I emailed the composers and told them about my planned review. They had this to say:
This book was inspired by many of our students that were in need of some solid, note reading reinforcement. We have found that there are a large number of students that move through the method books without actually knowing their notes. This book is designed to reinforce the notes one at a time, so that students can build a solid foundation from the start. We have found that hand positions are comfortable for students to reinforce notes through this logical, steady approach. We realize, that it is important that students not become dependent in hand positions, and encourage teachers to use the alternate fingering options found throughout the book, as well as provide the student with other music that is not written in position.
The book lists a  website The Perfect Start for Piano that has flash cards, audio files, and worksheets. The Perfect Start for Note Reading is by Kevin and Julia Olson and is published by The FJH Music Company. FYI,  I bought this book in a new release package and I'm writing this review because I think this is a new resource that teachers should know about.
Bottom Line
To be used along with a method book
Starts on the staff
OK for varied age groups
Clean engraving with emphasis on  slow sequential note reading
Uses only the notes above and below middle C
Lyrics and musical teacher duets
Check out other piano pieces by Kevin Olson
check out other piano music by Kevin Olson
Please follow and like us: