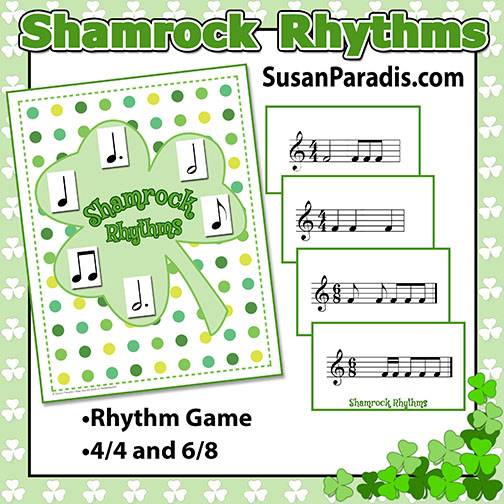 Scroll to the end to download the game.
Shamrock Rhythms is a super-fast game where students draw a card with a missing rhythm value in the measure. Then the student places the card next to the correct note on the game board. This game has been around a long time and I'm reposting it today for Throwback Thursday.
There are 3 pages in this PDF. The first page is the game board which should be printed on cardstock and laminated if desired. The second and third pages have cards with measures in 4|4 and 6|8 rhythms, which you can see above. They are intended to be printed on pre-perforated business card template cardstock. If you don't have any business template cardstock, there are hash marks on the edges for you to connect with a pencil and ruler and cut out.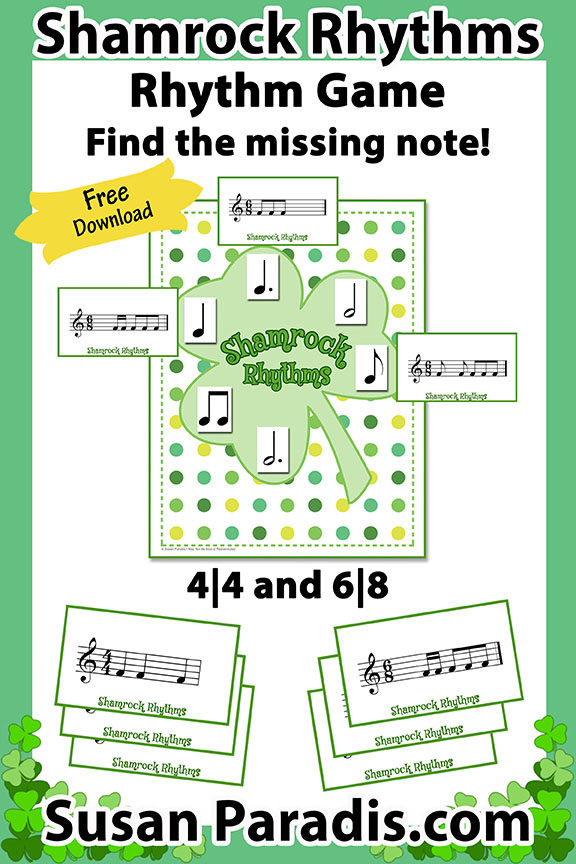 Objective
To review 4|4 or 6|8 meter.
To reinforce counting rhythm.
Material
Shamrock Rhythms game board, printed on card stock.
Rhythm cards printed on perforated business card paper or card stock.
Directions
Decide if you are playing the 6|8 cards or the 4|4 cards. Remove the cards you will not be using.
Place the cards upside down near the game board. The student will draw a card and place it next to the note that is missing in the measure. Don't cover the notes on the game board.
If a quarter note is missing from a measure in 4/4 time, students may put it on either 2 eights or the quarter note.
Optional
Use your phone to time the student.
For a longer game, play with both 4|4 and 6|8 cards.
Print more game boards and cards and use at a group lesson.
Please follow and like us: