Scroll down for the free download.
Dear readers,
Please be respectful and do not make pins or share pins of screenshots of my PDF's on Pinterest. Use the blog graphics I make especially for Pinterest. Thanks so much for your consideration so we can keep this material available for all! 
For Throwback Thursday, I'm posting this cute Valentine card. If you didn't get around to one last year, try it this year! Here is the original post.
Today's post is a free, one page, music Valentine card for you to give your students. It is made to be printed on 8.5 x 11 inch paper and folds to  a 5.5″ x 4.25″ card. Once folded, it has 4 pages. It has 3 easy pencil puzzles inside: a music sudoku, a music word search, and a sweet little music note-sentence to complete.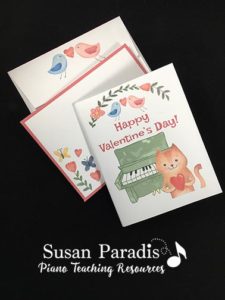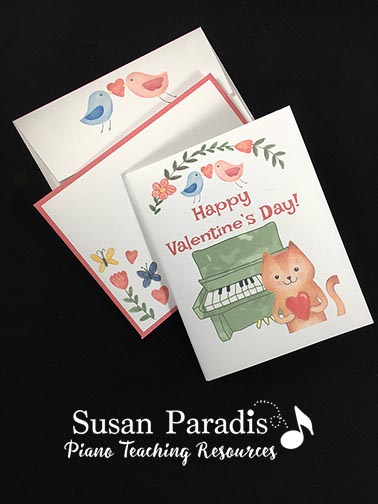 This is made for US letter size paper. When you print, be sure to print it with the free Adobe Reader DC and select "actual size."
It is designed on one page, so when you print it, you need to fold it twice. First fold the 11-inch side in the middle so "Happy Valentine's Day" with the cat holding the valentine is facing you. Then fold it again so the note story puzzle is on the back.
Now you have a 5.5″ x 4.25″ Valentine card ready to pass out.  If you wish, you can also make the optional really cute envelope.
Click below to download the free music Valentine Card.
Please follow and like us: