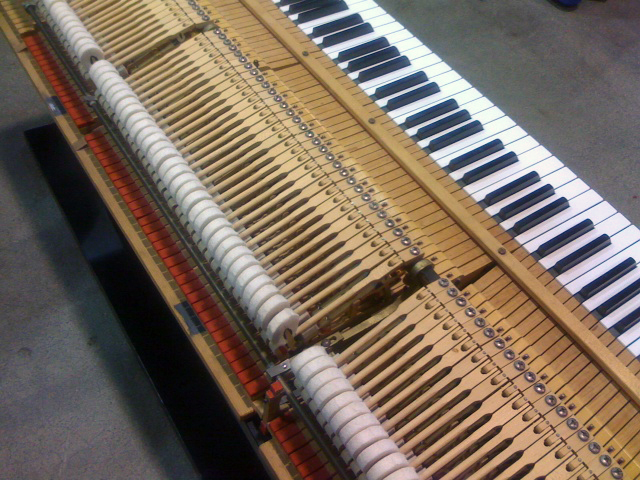 A picture I took of the inside of a Steinway
My friend Wendy Stevens is a very creative music teacher and composer. When I found out she had a lot of fun at her summer music camp, she agreed to answer some questions and let me share some of her ideas with other teachers. 
 
Where did you operate your camp? Do you have any suggestions on how to find a location, or did you use your own house?
I operated my camp at my own house.  We used my upstairs living room, dining room, and then my downstairs studio and extra bedroom.  This allowed us to have 4 places to have separate learning stations, or creativity stations as I called them.   
 
Was your camp open to the public, or did you limit it to your own students?
This year I wanted to limit it to my own students mainly because I don't have room for any new students in the fall.   
 
Did you have a helper, or did you do it all yourself? What was your pupil/teacher ratio?
I did all the planning myself, but I had a few high school students who participated in the camp who I asked to do a few things.  I've actually been advised by a number of teachers that I need to hire a few high schoolers to help with the running back and forth.  Several teachers I know even have their high schoolers prepare some of the lessons which is a great opportunity for learning for them.  Some high schoolers are required to have a certain number of volunteer hours at their school, so it never hurts to ask your high school students if they want to volunteer in helping with your piano camp.  I've also seen a number of teachers partner with other teachers, saving lots of prep time.   
 
What age group of students attended your camp? How did you group the ages?
Now, that's an interesting question because I don't know anyone who has done a piano camp like I did this year in regards to ages.  My students were ages 7-18!  I had the high school students come for 30 minutes before everyone else.  This allowed us to talk and practice more advanced concepts. Then, those students stayed and the rest of the students (7 total) came for 2 hours and 15 minutes.  
 
How did you decide what to charge your students? Do you think summer camp is a financially successful venture?
I wanted to be able to take all of the month of July off this year, so I replaced these July lessons with a day of camp.  It was a bargain for families (and I made sure to tell them this) because they were getting 2 hours of super fun instruction in place of a 30 or 45 minute lesson.  Another perk that I mentioned was that they would be getting 3-4 intensive days of instruction, allowing the skills to really develop quickly and stick with the students better.  I did charge an additional $50 for the camp (remember they still pay their July tuition since I do year round payments), but I probably should have charged more for the extra payment.
If I were giving advice to someone on what to charge, I would say to charge a regular month's tuition for a week (4 days) of camp.  
 
How many days did your camp operate? What were the hours?
I did a 4 day camp.  I don't advise people to do a 5 day camp.   That's a lot of work, and you'll probably be exhausted by Friday. Many churches are making their summer Bible schools only 4 days.  I think 5 days just gets a bit taxing for the teacher and students. 
The hours were as follows:
1:30-2:00 – High School students intensive course
2:00-4:15 – All students come
 
I'm very interested in how you grouped your activities, such as how much time you spent on each activity. In talking with teachers, that seems to be their biggest worry, other than finding a place to have their camp.
I was given some great advice by a teacher friend of mine: start with a game, end with a game, and use the first part of your camp (after the game) for teaching the new concept(s).  So, here was my schedule:
2:00 – Brainstorming activity
2:15 – Teaching time (this was divided into learning about the Carnival of the Animals, a bit about music history, and reading lead sheets)
2:50 – Game
3:05 – Stations (I had 4 stations and each group of students spent 9-10 minutes at each station)
3:45 – Snacks
4:00 – Final game (games would help reinforce new concepts taught at the beginning)
4:15 – Dismiss
 
 Did you make your own activities, or if not, where did you get your activities?
Oh, you know me…I made my own activities!  I spent a lot of time creating a 50 page booklet for my kids so that they would have all the camp materials in one place.  I'm probably going to streamline the booklet and sell it on my website for other teachers' camps next year.  
 
Finally, you will probably post some of your successful activities, but what are a few things your students enjoyed the most.
Yes, I'll post about some of the successful activities, but to really see what a good time everyone had, you have to watch the video I put together afterward!  It's here: http://www.composecreate.com/piano-camp-2011-video/
The "rhythm activities" were a huge hit and that was wonderful to see because I was using a new resource which I am unveiling very soon!  Stay tuned!
One of my students favorite games was the "bell game" in which students line up at a table in teams and a call bell is placed between them.  I ask a question (about what they learned that day) and the student who knew the answer would ring the bell, turn around in a circle and ring it again.  The student who rang more quickly the 2nd time got to answer the question.  It was a simple game that we play all the time in the studio, but since I added the turning around it was a huge success!  Sometimes its the simplest of games that are the most successful!
*************
Thank you Wendy. I think this information will help a lot of teachers who may want to have a music camp but are not quite sure how to go about it. I'm going to dig out my bell and play the bell game at my next group lesson. And thanks for the link to your cute video. It's very motivating,  and I can tell you all had a lot of fun while learning a lot about music!
Please follow and like us: