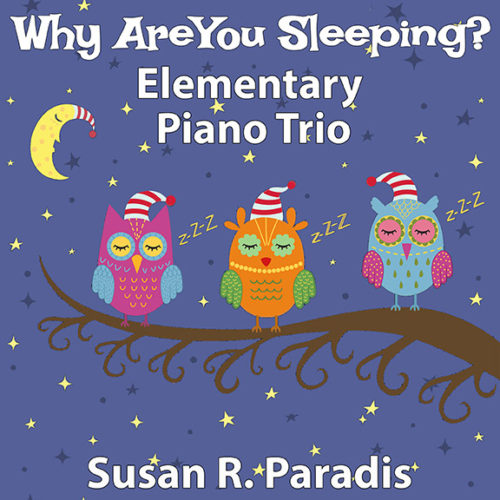 Why Are You Sleeping Comic Trio
GREAT FOR RECITALS, GROUP LESSONS, AND MUSIC CAMPS!
Why Are You Sleeping? trio is a humorous, kid friendly take-off on the traditional round Are You Sleeping. Written for three students at one piano, it works best with students who love to ham it up and are not afraid to over-act. This arrangement is written for elementary students who can play eighth notes, but their hands remain in the same 5-finger position except for a two easy shifts in the bass part and 2 crossovers in the middle.
There are no spoken lines, so the facial and body movements express the plot. It starts with one very sleepy student who cannot seem to remember what piece he/she is supposed to play. He starts several familiar tunes as he tries several tunes, much to the displeasure of the other trio members. After a while, the two other players come up with a funny way to "wake up" the sleepy student. After that, the remainder of the trio is performed as a three-part round with a spirited ending.
Listen the second part (after the acting)
While the students will have lots of fun with this trio, musically, they will get some experience with polyphonic music in a light-hearted, amusing way. Students will be playing dynamic and articulation contrasts. They will learn to bring out the melody, much like a Bach invention.
This is also fun to perform in group lessons or music camps where students can study and listen to polyphonic music and then play Why Are You Sleeping.
THIS TRIO MAKES A GREAT RECITAL ENDING!
This trio features:
Complete acting instructions on a separate page.
How to make the simple and inexpensive props.
3 paper-saving individual 2 page scores for high, middle, and low parts.
A performance/director's score with all the parts grouped together to help playing together.
A separate color cover page.
Helpful finger numbers.
Treble and bass clefs in all 3 parts. There is no tricky "same staff" reading.
Bonus! Slow and faster tempo audio files for students to practice with!
THIS IS A STUDIO LICENSE, SO A SINGLE TEACHER CAN MAKE UNLIMITED COPIES.
Please follow and like us: