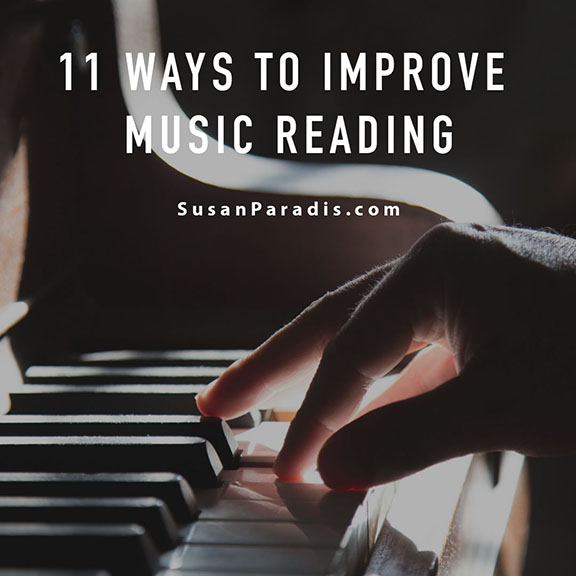 To continue my series about students who have trouble reading music, I am sharing eleven ways to help your problem students improve their music reading skills.
As I said last week, I've had some students with years of lessons who continue to have trouble sight-reading and identifying melodic intervals as they play. Of course these were the students who had the most trouble sight-reading.
From an educational standpoint, these same students had no trouble with intervals in worksheets and theory books, and actually made great grades on the state theory test, so it had nothing to do with intelligence. But while reading music at the piano, they were like a different student. Clearly, reading words is a different skill than reading notes.
Poor music reading skills are probably why so many students drop out of lessons. We need to learn how to reach these students and help them feel successful. Unfortunately, some teachers don't understand these students.
Simply learning all the notes on the grand staff will not necessarily help music reading, which is a very complex skill. Poor sight-readers are not always lazy students and often practice more than effortless sight readers. Many times they have beautiful expression.
Excellent sight readers often fool the teacher into thinking they have practiced. One of my friends told me how her teacher used to praise her for all her great practice, when actually she never opened a book between lessons!
I've helped many students improve their music reading, and here are some of the tools I use:
The most important thing is to work on developing the ear from the very beginning. Being able to hear the music in their head will help them find mistakes that their eyes miss. I tell them their ear is their best friend.
Students should practice sight-reading at home where there is no pressure. Tell your student that you know they will sight read better at home! The thought of sight-reading a piece cold can throw a student into a frenzy of brain freeze which makes sight-reading impossible.
Problem readers will always need to learn music slowly and hands separately.
When students first put hands together, they should play at half the tempo than they can play the music hands separately, then gradually speed up. It is hard to get students to do this, but try for it.
It really helps to learn scales, chords, and arpeggios in every key. Use my free picture scales, because scales on the staff just look like a jumble to them. They will never figure out which finger number goes to which note.
Students need to be able to identify ledger line notes quickly so that jumps do not cause a break down. Ledger  line notes are especially difficult for these students.
Every piece has a "tricky spot." Help poor readers by teaching those spots by rote or semi-rote.
Sight reading will improve with practice. Practice really easy sight-reading at every lesson and at home.
Encourage the use of sight-reading cards similar to these free ones in my last post.
The use of colors is very helpful. Have the student circle all the skips in one color and steps in another. Mark sharps with one color and flats another.
Sometimes we think poor music reading is a problem with the staff when it's actually a rhythm problem. Most "problem readers" can barely play intervals, so forget about counting the meter (1& 2& 3& 4&) out loud while they play. Rhythm syllables are easier to count out loud. (ta – ta – ti – ti – ta, for example.) They need to learn to count rhythms, however, even if they can't count while they play.
Not all great musicians are great sight readers. Some poor music readers seem to have a lot of angst and secret shame, which is really not necessary. We all have different skills so we need to think more of what we can do well!
Please follow and like us: