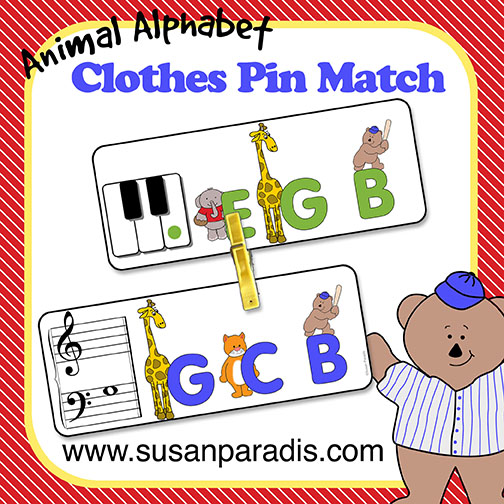 Alphabet Keyboard Clothes Pin Keyboard Cards -Piano Keys
Alphabet Clothes Pin Matching Cards – Notes on the Staff
I had so many requests for this keyboard version of the Alphabet Animal Clothes Pin Matching Cards. I think it's because most of us get new students in the fall, and one of the first things we want to teach them is the name of the piano keys. When I give workshops, I list about 10 ways to quickly teach keyboard names. Now I have another activity to add to my arsenal!
You can try this with all elementary ages. However, sometimes a graphic representation of a keyboard is too abstract for preschool children. You will have to guide them more and sit at the piano to help them out. Children also forget from week to week. This activity is something teachers and parents can do to reinforce what students learn at the lesson. I also think it's a great way to evaluate how well they have learned the keyboard.
Click the caption under the picture to download the two free PDF files.
Objective
To quickly identify the names of the keys on the piano keyboard
To work on eye-hand coordination
To strengthen the fingers
To enjoy a hands-on activity
Ages
Materials
Regular size clothes pins
Animal Keyboard  Clothes Pin Matching Cards, printed on card stock and laminated or covered in clear vinyl, and cut out
Directions
This activity is for one student, but can be modified for more than one
The teacher gives the student the cards and a supply of clothes pins
The object is to attach the clothes pin on the correct name of the piano key
Why I like this game
It does not require a lot of preparation
It is fast and can be played in a few minutes
It helps to strengthen the fingers a little
Please follow and like us: