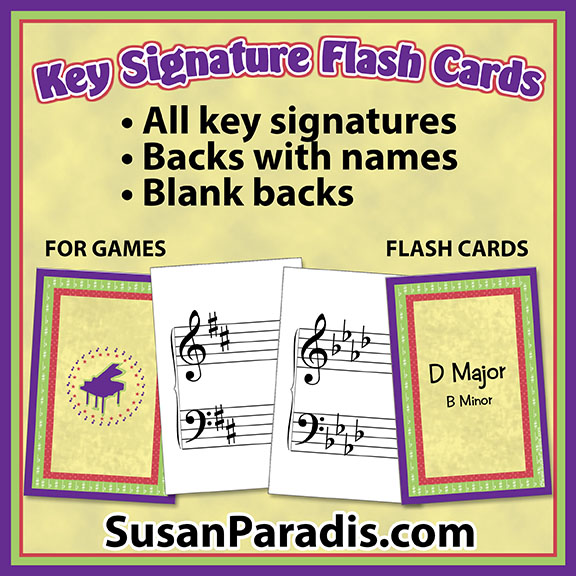 Today I am posting some handy key signature cards that can be used both as flash cards and playing card games. You can even print them both ways!
Above you can see I made backs for the cards. There are two versions. One has the names of the keys printed so the cards can be used as flash cards at home or in the lesson.  I also wanted a reverse side that I could use for a rummy type card game. Obviously, the answers could not be on the back of the cards, so I drew a colorful piano graphic. For card games, you will need to print out several sets of cards.  I wanted a design that would appeal to older students and also be appropriate for card games.
There are 2 pages of key signatures,  one for flats and one for sharps. I put in two C Major cards because of a Circle of 5ths activity we do.  Feel free to omit the colored backs and use only the key signature cards. If you do,  print only the first two pages, and use a pen and label the backs yourself.
If you print on both sides, I suggest you test out one page first using plain paper and an economy (sometimes called "fast") setting. I don't want you to waste your good paper and ink. This was a big project for me, requiring a lot of drawing and placing by hand.  I hope that you will find it helpful.
Please follow and like us: