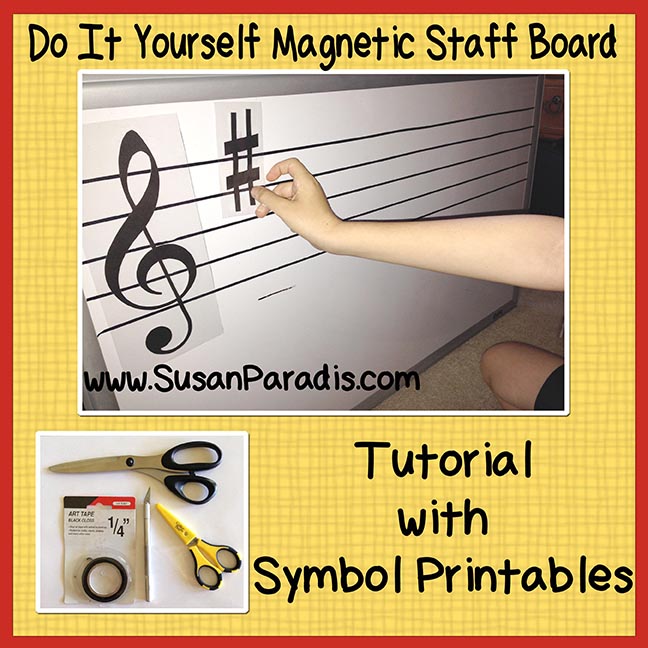 I've always wanted one of those big magnetic white boards  with a  music staff. They are expensive, however, so for years I've been planning on making my own. Recently my daughter moved and gave me an almost brand new 3'x 2′ magnetic board!
I've been using the magnetic board at every lesson to teach how to place sharps and flats on the staff  in order to construct key signatures.  All of my students have said it is so much easier to learn them this way. It's also a great way to show beginners stem direction, and even learn note names. It is a lot faster and more fun than using a worksheet, too. This has been so helpful in my studio that I can't imagine why I waited so long to actually make it!
I thought about using a marker to draw the staff lines on my board, but I was afraid I would mess it up.  Instead I decided to use 1/4″ art tape, also called drafting tape or artist tape. [Disclosure: This link to my Amazon store is just to show you art tape, and the current price is less than what I paid for mine at a craft store. Please buy it where you find the best price.] I think wider tape looks too big for the size of my notes. I wanted my lines to be about the size of a line I would draw on the board, if I had steady hands!
Magnetic white boards are a lot more expensive than the non-magnetic variety. The most expensive places are office supply stores. Sometimes Amazon has great buys, but be sure to buy the magnetic variety if you mail order one. If it doesn't specifically say it is magnetic, it is not. Here are some suggestions to get one at the best price:
Use a 40% coupon at Michaels or Hobby Lobby.
Check out Sam's or Cosco.
Buy a giant size oil changing pan at Walmart and spray paint it white. This is the real do-it-yourself method, because the big pans are under $15.00. (Make sure it is magnetic.)
It is very important to me that the symbols are "see through" just like notes on a page. So BEFORE I laminated anything, I cut out the inside white part of each symbol. Just remember, cut it out before you laminate!
 Material
Ready made magnetic white board about 3′ x 2″
Or a large metal oil pan and white spray paint, if you make your own board
1/4″ black art tape
Heavy Paper or card stock
Scissors
Small scissors and/or craft knife
Template for lines
Thermal laminator and lamination pouches (film)
Magnetic tape
Tiny bit of glue
Sharpie for touch ups
Ruler
Instructions
Print the symbol pages with black ink and cut out each symbol. Cut out the inside of each symbol with small scissors so that there is no white showing. I cut a slit with a craft knife before I cut the inside but that is optional. Use a black sharpie along the edges if needed to cover up little bits of white.
Use your whole note as a measure to determine the size of your staff.  My staff lines are 1 1/2″ from the top of the tape line to the top of the next tape line, but you should measure your printed notes and make the lines to fit.  With a ruler make a template to show the placement of the tape.
Line up the template where you want to put the lines for the staff.  Cut tape the length of your white board and place 5 lines horizontally on the board.  In this photo, you can see I discovered the staff is too close to the edge for high ledger lines notes, so I plan to move it down. Originally I was going to make a grand staff.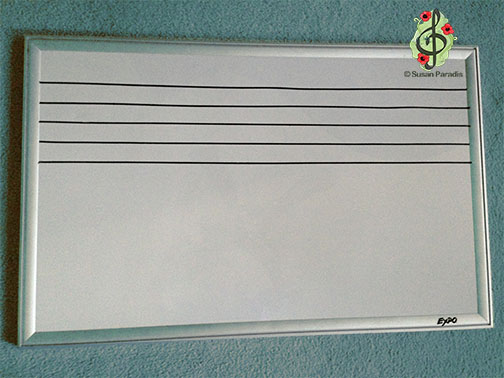 Place the cut symbols and notes into lamination pouches. Leave enough room around each symbol so that they can be cut in rectangles and squares for ease in handling.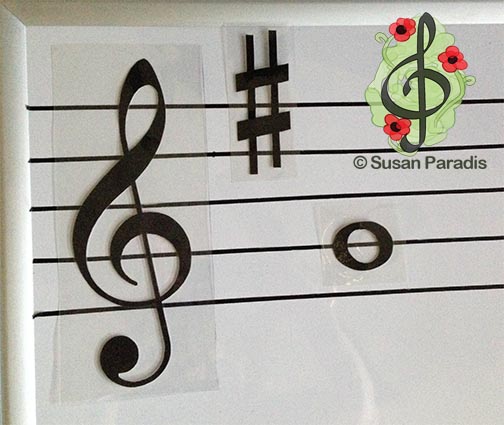 The Bass Clef
The dots on the bass clef should be cut out separately. Place the cut out bass clef (without the dots) inside the laminating pouch and lay it over your template. Open the pouch. Put a little bit of glue on a toothpick to glue the dots in the correct place on the laminating pouch.  The dots will need to be centered on each side of the bass F line. The glue will hold the dots in place. Then close the laminating pouch and run it through the laminator. This worked great for me and was not as hard as it sounds. Now the dots are "floating" beside the clef. My students keep asking me how I did it!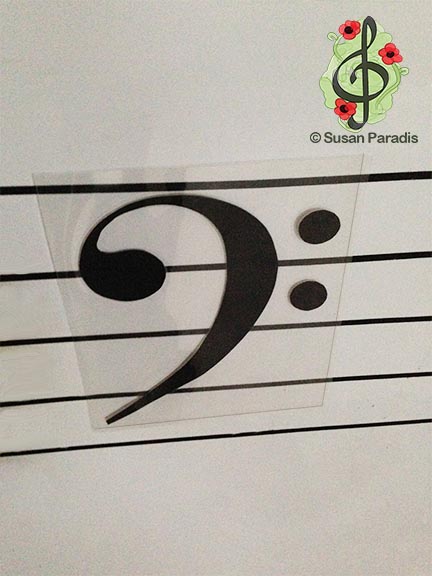 Cut small pieces of magnetic tape and place it on the back of each symbol. Well, it wouldn't be a Magnetic Board without magnets! 🙂 Trim the tape as needed to fit the symbol. Every symbol needs at least 2 pieces of magnetic tape and the bigger symbols need more.
The free printable contains:
1 Treble Clef
1 Bass Clef
8 Whole Notes
7 Flats
7 Sharps
2 Naturals 
2 Double Sharps
To conclude, it was not hard to make my magnetic staff board and symbols. In fact it was a lot easier than writing this post which took me about a week! I find it hard to write directions, so please leave a comment if you have a question about the instructions or even a suggestion! If you have made a magnetic board with an oil pan, give us some tips! I'm not sure how many do-it-yourselfers are out there, so let me know if you would like me to post some more big symbols such as time signatures, bar lines, and rhythm notes!
Please follow and like us: