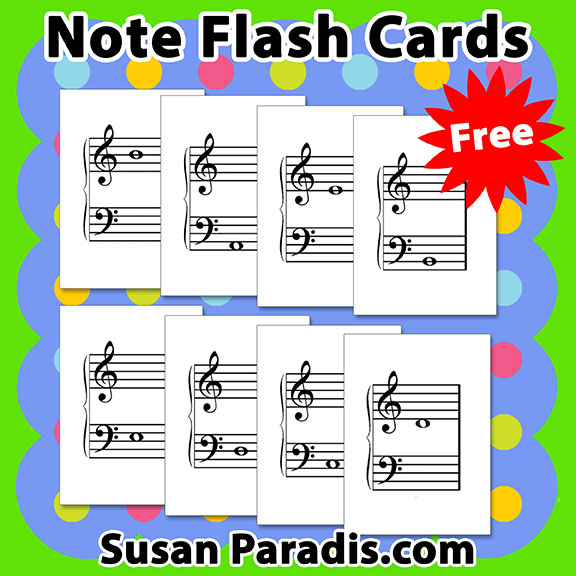 I have flash cards in several sizes, and here is another set. These are playing card size, the same size as the ones in the Goofy Piano card game. But this set is expanded and arranged  differently on the pages. There are 4 pages to this set and I arranged them this way:
The first page is a set for beginners. If you have a new student who is learning the notes around middle C, you can tell the parent to print just the first page.  It seems so much less intimidating for the parent and the student. If parents need the name of the notes on the back and don't read music, they can bring them to you.
The second page and part of page 3 has rest of the notes on the grand staff but no ledger line notes.
The rest of page 3 and page 4 have ledger line notes above, below and in between the staff. There is also a left hand middle C.
UPDATE! I've posted a file with the name of the notes for the back of the cards!  🙂
If you're a new teacher, you may notice that students need to learn where the placement on the piano is, not just the name of the note. Also, most teachers agree that flash cards don't help very much with music reading, but they do give a student confidence to move up and down the keyboard quickly. And let's face it: students need to learn note names if they are to be a musician! Creative ways to use flash cards will keep it fun and not drudgery.
When we work on flash cards, students have to "say and play" the cards.  I set aside no more than 6 weeks of the year to work on them and students try to join the "One Minute Club" by being able to say and play them in one minute.   The one minute club is not my idea,  but one I got from the wonderful teacher and composer Jane Bastien. Of course, older students are not a bit interested in the *club*, but do like the challenge of seeing how fast they can do them.  I make a different membership card each year and put the number of years they have been a member.
I also use ready made flash cards, but many times students lose them from one year to the next.  With cards posted on the Internet, they can just print new ones to their hearts' content. There is no excuse to not study them at home!
Please follow and like us: