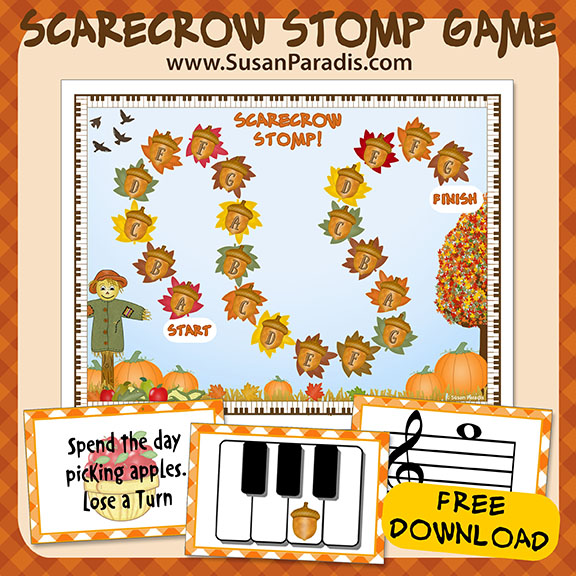 What do musical little scarecrows do when they get tired of chasing away crows? Well they stomp the acorn notes scattered over the field, or course! Well, at least in my imagination that's what they do. This is a yet another version of my favorite game, and of course I made new cards, this time with an autumn theme. It's kind of nostalgic, because I doubt few kids in the suburbs know what it's like to bale hay. I have a lot of readers who DO live on a farm, plus a lot who have all these memories in their head. I know I do, and there is nothing like autumn on the farm. [Edited to fix the keyboard cards. There is now a B! You will need to refresh your screen for the updated version.]
The nice thing about fall activities is they can be used all the way through Thanksgiving. This is a good game for students who don't celebrate Halloween. There is no Card of Doom, but there is a terrible card. Literally, it's The Terrible Card!
The original file contains 7 pages:
The board game
The optional colorful back
Three pages of flash cards
Fun directional cards, including The Terrible Card
How to Print
Set your printer to landscape. For a crisp, good-looking game board, use photo paper and laminate.
Insert photo paper or card stock and print the game board. When the print box opens up, under "Pages to Print" select "Pages." In the dialog box, type "1" because you are only printing the first page. Set it aside to dry.
Insert card stock to print the cards. Under "Pages to Print" select "Pages" again and type "2-6." If you can only print one page of card stock at a time, type a different number for each page.
To print the back of the flash cards, re-insert the printed card pages so that you will be printing on the back. Under "Pages to Print" select "Pages" and type "7" because the 7th page is the colorful back. [To keep from wasting ink, be sure you know how to do this. See my FAQ.]
You may have this printed at a print shop. I can send you a release if you need it.
Directions
This game can be played with students only, or teacher and student. The players take turns drawing cards and moving to the correct alphabet name. Mix up the note cards with the instruction cards.  The game is over when a player draws any note card after the last D. I try to make sure the students win more than they lose, so sometimes I have to get creative! You can mix and match the cards to fit the students. If a student only knows a few notes on the staff, add the keyboard cards to extend the game. For pre-school children, help them say the music alphabet backwards by letting them read it backwards or omit this card if necessary.
Objectives
To reinforce or learn note names on the staff
To learn the word "octave."
This file is for personal use in your home or piano studio. Please do not share electronic files. My material is copyrighted. Do not post images on your website. Thanks!
Please follow and like us: