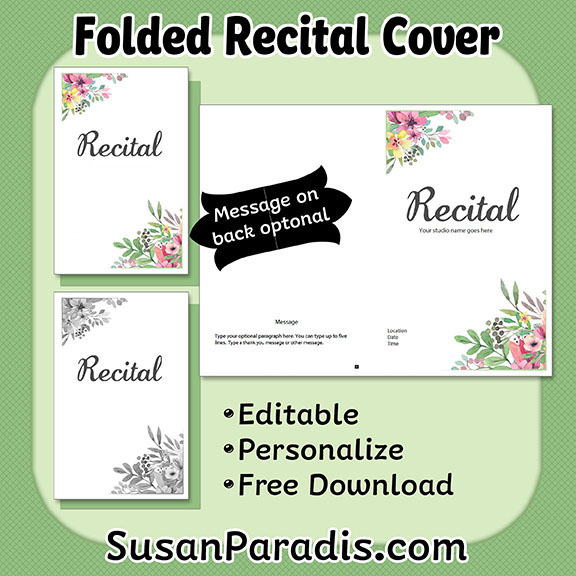 Recital Program to Personalize
Here is a recital cover for you to use at your spring recital. You can choose to personalize it like the picture above on the right, or print it the way it looks in the small pictures on the left.
Here is how to add your personalization:
Open in Adobe Reader.
Using the graphic above as a guide, put your cursor underneath and very close to the word "Recital."
Type the name of your studio.
Move you cursor down to the bottom opposite the flowers. You can type the location, date, and time.
Moving to the left side, which is the back of the program cover, there are two places near the bottom to personalize. The first space is a header where you can type "Thank You." Underneath that you have several lines to type any message you wish.
To make a document for the inside of the program, use a word processing program such as Word. Open a new document in landscape orientation with two columns. Set the borders at 1/2 inch all around with a one inch space between the two columns. Print this new document on the blank side of the recital program cover. Fold the program, and you're ready to go.
I also tried printing this in black and white to see how it would look for teachers who do not have access to a color printer or want to save color ink. It looks fine printed on light green paper if you have a printer that allows you to print in "grayscale."
I don't think it will look good using a B&W laser printer. All the flowers will turn into a blob of black. Instead I have made folded recital covers in the past that you can use: Recital Program Cover. It will look fine on a color laser printer.
FYI, I did not draw the flowers myself!
There you have it. I hope you enjoy this recital cover!
Please follow and like us: