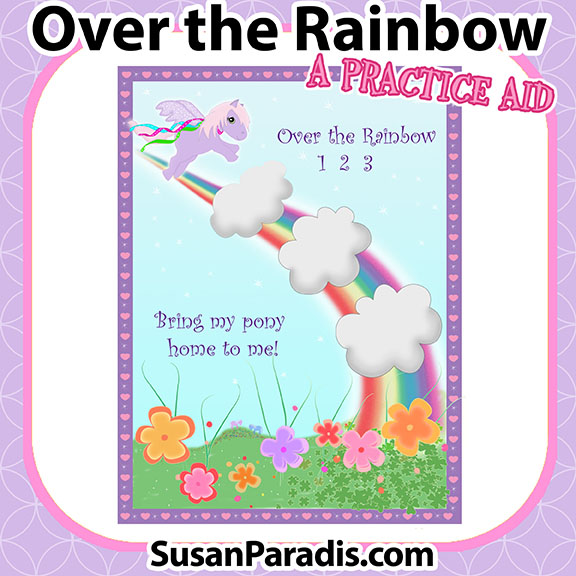 Over the Rainbow Practice Activity
If your students liked Stuck in the Tar Pits, try this one with your young girls. When I drew it, I was hoping to dazzle the girls with something they would really want to do, and so far my students have loved it. You will have to be the judge of what age girl in your studio will be interested, because all children are different.
Play this the way you play the Tar Pits game. Start with a measure or short phrase that the student is having difficulty mastering. Place a small pony figure (or anything you have on hand) on the first cloud. If the student plays correctly, she gets to move to the next cloud. If not, she stays put. When she has moved 3 times,  "Melody" the pony, gets to land in the soft clover and join her pony friends in the background. The student will learn that if she plays slowly and carefully, she will play it correctly. It's certainly a more fun way to repeat a measure!
I had a few tiny My Little Pony figures that came with a kid's meal I think,  hanging around the house. I use them for this activity, and the kids just love it! It's fun to look for cute things you can use for piano games or even ask your piano families to think of you when they are cleaning out!
Please follow and like us: