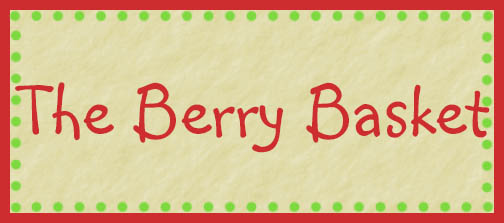 One of the perks of having my own blog is that I can sit at my computer and ramble on about anything. Today, I'm going to tell you about a little out-of-print piano book I found on the internet.
I'm not sure what sent me to a site on Etsy that sold vintage ephemera, which is a fancy word for old printed collectables.  Somehow I found myself looking through a selection of used vintage piano books the shop was selling to cut up and use for crafts. How sad, I thought, that these old books, once lovingly handed to young children and toted back and forth to piano lessons with the hope that the children would fall in love with piano, are now reduced to being cut up for who knows what.
As I was looking and reminiscing, I came upon a 1953 piano book that looked so charming I had to take a close up look. It was named The Berry Basket, and it had the cutest vintage art on the cover. The seller had some pictures of the inside art (with no mention of the music), and I knew I had to get it.  The price was only $3.00 so I clicked the buy button. In a few days, there it was in the mail, saved from destruction and in the hands of someone who could appreciate it!
The book is written for beginners, and the first pieces are only 8 measures long, with sweet, vintage drawings on every page. Each little piece has simple, child-like lyrics.
I was happy to discover the music is in different 5-finger positions and keys. There are no C position pieces in the entire book!  The lyrics are very simple and childlike, back when young children were more innocent and didn't know the questionable lyrics of today's popular music.
Since this is a previously used book, there are markings from the teacher.
"Work out notes H.S. Don't Guess."  
"Count."  
"Slow." 
Some things never change in piano!
According to the preface, the music and words were written by the Sisters of the Holy Cross attending a music workshop in Salt Lake City, conducted by Bernice Frost, a well-known composer of piano teaching music last century.
I wonder what Bernice Frost said in her workshop that inspired the Sisters of the Holy Cross to compose this music? The preface says the book offers, "… development in the basic requirements of elementary musical training. Foremost among these are ear-training, singing, keyboard range and feel, essential points of technic, and pianistic style."  Maybe Bernice Frost gave them ideas of all the many things that can be done at a piano lesson besides just playing the music. I like to think so.
Maybe the child who used this book is now a piano teacher in his or her golden years, with hundreds of former students who love piano music! I like to think that, too!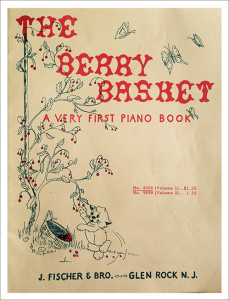 Please follow and like us: