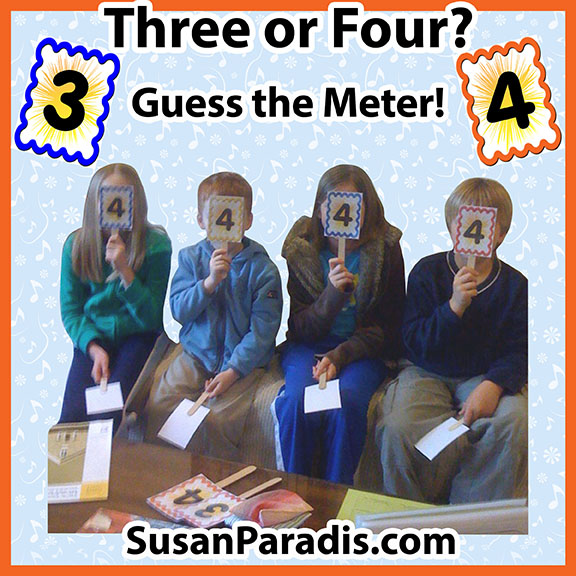 I like to give my students something to listen for when they play for each other at  group lessons. I was watching the Olympics and decided it would be fun to hold up numbers at the end of each piece like the judges in some of the competitions.  But our numbers are not  a rating. Students have to listen to each piece and decide if the meter is in 3 or 4.
The older group had one piece in 6/8, but it was played  rather slowly, so students felt it in 3. This gave us an opportunity to discuss how 6/8 should be felt in 2 when it is played up to tempo and I was gratified that the students remembered what I was talking about.
Another student played a piece in 4/4 time with accents grouped in threes  in the first few bars that faked everyone out. Students learned they need to listen to the entire piece.
When I first announced we were going to play Three or Four, it was interesting watching the younger students quickly open their music to check out their time signature.  So we were able to discuss why they should know the meter and key signature of their own piece!  The games we play in group lessons usually lead to some interesting musical discussions, and hopefully some new things learned.
If you want to try this activity, here is how to make the signs. Click on the link under the cards. That will take you to my website. Click on "download" to print. After printing the PDF,  cut the cards out and paste to large size popsicle sticks. I put 2 cards back to back and laminated them in my home laminating machine. That way the back of the cards we not laminated and stuck a lot better to the popsicle sticks. After I cut out the cards, it looked like the laminating material might pull off, so I put them through the laminating machine again. That worked great.  I used a glue gun for the adhesive because kids can be rough. They used the cards to keep time on their knees!
Students had a lot of fun holding up them up,  and it gave them something to listen for, which is sometimes hard for students.
Now that I have the cards,  I'm going to try and come up with some other way to use them. Any ideas?  🙂
Please follow and like us: