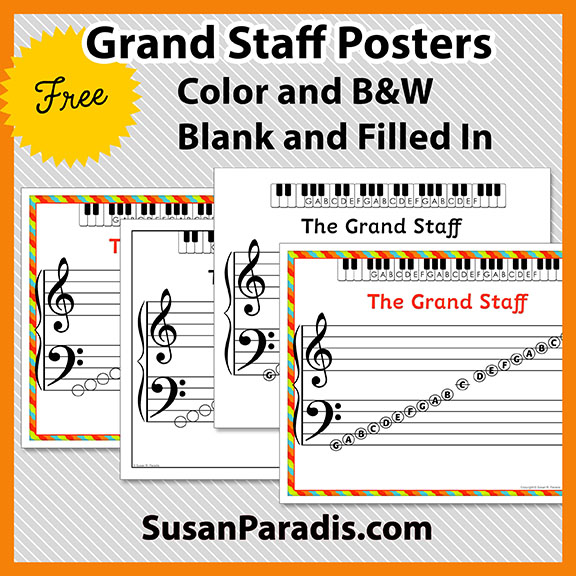 This is a versatile set of grand staff printables. Two are in color, and two are black ink. Two have the notes typed in, and two are blank so that students can label them. There is a handy keyboard at the top to show where each note is located on the keyboard. The middle C is directly between the two staves so students can see how the bass and treble staff continue with the music alphabet.
Instead of printing out a copy for each student, put them inside sheet protectors and use dry erase markers.
If you have a beginning student who needs to learn the notes very quickly for an exam or test at school, this might be just the thing they need. It also coordinates with the polka-dot theme on the printables I posted last week.
Put the labeled version inside their binder,  or insert one in the plastic, see-through binder cover.
Using the Skitch app (or your favorite app), download the black and white version on an iPad. While the notes are tiny, elementary students can still write on it or even draw lines to the keyboard at the top. To save time, call out letters and let students match them.
Be sure to only print the version you need. See my last post if you are not sure how to do that. Set you printer to  landscape orientation.
If you are looking for larger staves to write in note names, please check my website, because I have multiple versions for just about every holiday.
I hope I thought of everything! If you have any ideas, please leave your suggestion in the comments to share with other teachers.
Please follow and like us: