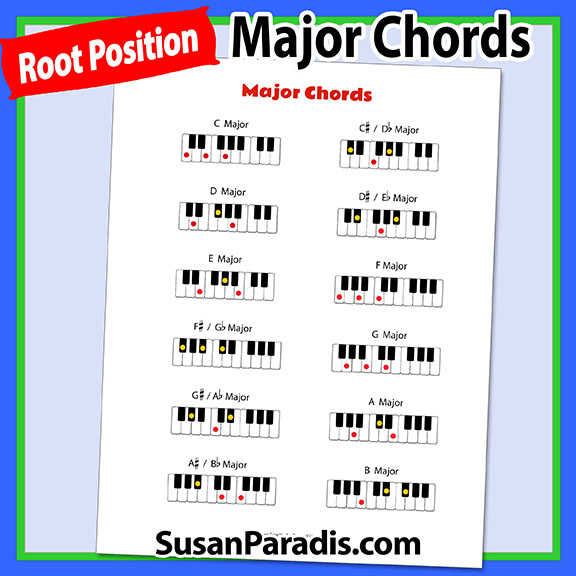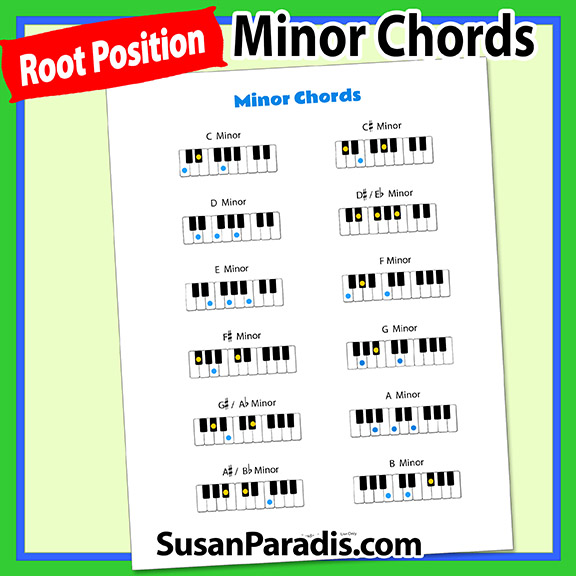 Today I am posting major and minor chords in root position, drawn on small keyboards with dots to show where to put your fingers. I call them picture chords, because they are very helpful for students who are visual and kinesthetic learners.
In addition, some students have trouble processing a lot of accidentals on a small staff. They become very confused if you show them a page full of chords on a staff. But once they see it this way, on a clean-looking page with lots of white space, they relax because it is so easy to follow the diagram. In fact, these students usually memorize the patterns and make great "by ear" players. I was one of those students; my ear has always been my best piano friend!
If you combine picture scales and picture chords with a steady diet of reading music on their level, they often turn out to be well-rounded students who can read music as well as play by ear. So don't give up and please don't think of picture chords as a crutch or dumbing down teaching. Picture scales and picture chords are just another tool in our big hat of teaching ideas.
It takes some students a long time to learn how to read music at the piano. If they improve even slightly and at a slow pace, then they are making progress. We have more senses than our eyes, so why not use them all to learn how to play piano?
Please follow and like us: