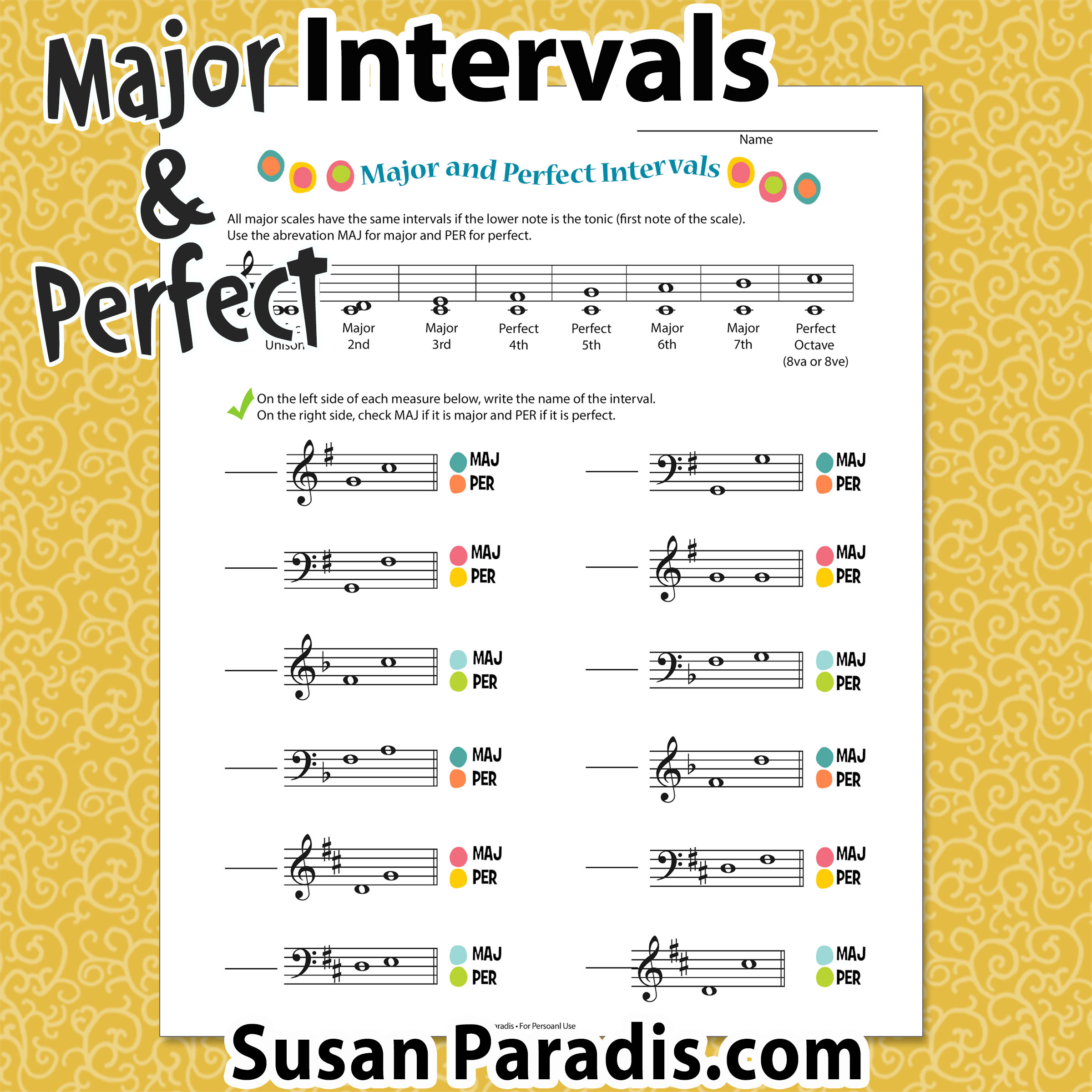 If you have been following my blog lately, you know that I have been adding more interval worksheets to my site. Today I am posting one that is starting to get more difficult than just naming the interval.
In this worksheet, student will identify if the intervals are major or perfect intervals. At the top of the page, I show the major and perfect intervals in the C scale. Then, students identify major and perfect intervals in the keys of G, F, and D. To help students who are new to this, I used only easy keys. I also encourage students to play and listen to the intervals. When I first learned intervals, I thought fourths and fifths sounded hollow, so maybe that will help your students. I always teach intervals at the keyboard first, and then we do written work.
Now, you may have some students who will ask why they are called "perfect". I know I did, and in fact I asked my teacher in college who said some mumbo jumbo I didn't understand well enough to give you a good definition in this post. So I am honest and say I'm not really sure, but it has to do with the sound waves and the quality of the sound. A long time ago, this special sound of was noticed and characterized as perfect. I have my college theory book on hand (Piston) and it simply says to call them perfect, with no rhyme nor reason. The Oxford Dictionary of Music says, "They possess what we may perhaps call a 'purity' distinguishing them from other intervals." If students need more information, tell them it would make a great topic for a school project!
Whenever I make something that is not directly related to reading music, usually I get email from teachers asking me if it is necessary for their students to learn this. My only answer is that some students love music theory and find it fascinating. But I have had a few students who were not really serious about music, so we thought, but went on to become music majors of some sort. They were very grateful that they learned music theory because it helped them so much. I have had many former students tell me they are so glad I taught them music theory.
If you are looking for easier free worksheets on intervals, go to FREE at the top menu and open that page. Then start scrolling down until you see the section on intervals. Here is the link.
Please follow and like us: