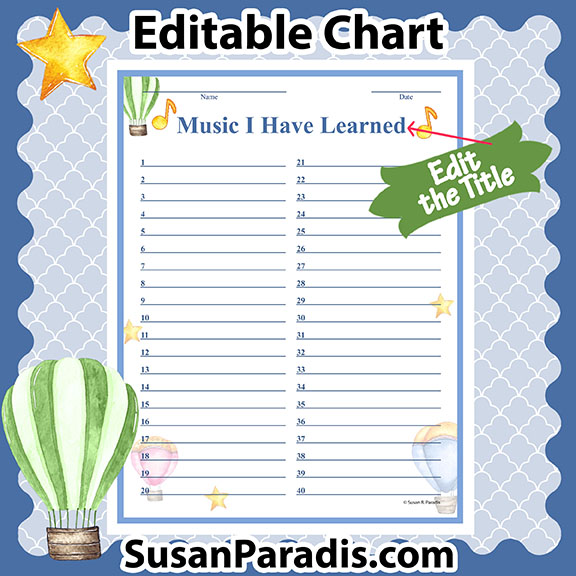 Today I am sharing a chart your students can use to make a list of the music they have learned. My friend Marcia is doing a 30 Piece Challenge and she thought it would be helpful to have a chart for each student to list the name of the pieces they have learned. So I made one up to match the other balloon-themed material I've posted this year, such as the academic calendar and the freebie Key Signature Chart that is a test product in my store.
I created this file as an editable PDF, but only the title is editable, so you can use it for anything and call it anything you wish as long as the title fits in the space. To edit the form, simply click on the title and type over the text with whatever you wish the chart to be called. For example, you can title it "Scales I Know" and have students keep a list of the scales they have learned. Put it in your student's binder and you're good to go! I made it with space to list 40 items so it will work with the 40 Piece Challenge.
Have you heard of the 40 Piece Challenge? This is an idea thought up and shared by the imaginative piano composer, blogger, and piano instructor from Australia, Elissa Milne. You can read all about it here.
I first heard about Elissa's idea at a MTNA convention about 3 years ago. Students set a goal to learn 40 pieces each year instead of only practicing the same several difficult pieces the entire year, neglecting easier pieces that help with sight reading and make piano more interesting and educational. The music doesn't have to be memorized or polished to perfection like a competition piece. Now that her idea has spread all around the world, teachers with a shorter teaching schedule have tweaked it to require only 30 pieces.
To find all the material I've posted this year that matches this chart, select "Free" in the top menu. When the page opens, select "Teaching Aids" and start scrolling down to find the matching pages. There is a lot of material there!
Please follow and like us: