If your students take a standardized theory test like mine do, you know how hard it is for some students to learn key signatures. My fifth grade students need to know nine key signatures for the TMTA theory test, so I created a fun board game that they enjoy.
I find that if I make something colorful and kind of silly, they all want to play. And as they play, they learn, even if I have to help them at first. Like we all do, I teach students how to figure out key signatures by themselves using the circle of 5ths. But  it is a good idea to learn to identify them quickly, because it gives students confidence. As time goes by, they realize the benefits of knowing key signatures quickly, just as knowing multiplication tables quickly gives them confidence in math.
How To Print
Read this section before you print all 4 pages. To download, click the link under the image above. This printable PDF includes 4 pages.The first page is the game board. The next two pages are the calling cards. I made the calling cards to fit on business card templates that are perforated for easy separation so that I don't have to cut them. If you don't have business card templates, there are some hash marks for you to draw a few lines to help you cut out the cards. The last page is the optional back to the cards.
Under the Pages to Print instructions in the pop-up box, select "Pages", and then type 1-3.  In order to print on the back, insert pages 2 and 3 into your printer and type 4  in the Pages selection box. You will need to know which side of the paper your printer prints on, so test that out before you waste paper.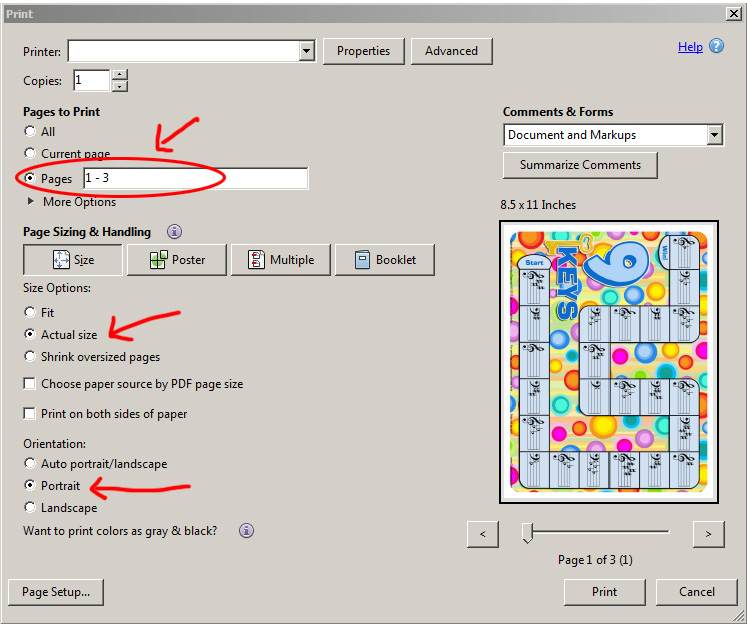 Materials
Nine Keys, the free printable game board from my website
The cards, cut or separated, and (optional) printed on the back
Two game tokens, such as old car keys or key charms from a craft store
Directions

Students should have a basic understand of key signatures in order to play. They might need help with the answers at first, and that is how they will learn.
Student and teacher take turns drawing a calling card and moving to the correct key signature or following the directions on the card. The player who lands on the last key wins. My students really love the card that says, "If you know the definition of Key Signature, move up 8 spaces. If you are the teacher, lose a turn." Every time I draw that card I moan and groan, saying, "Who made the rules to this game, anyway?" and my students love it!
Objectives
To learn to quickly identify the major key signatures of C, G, D, A, E, F, B flat, E flat, and A flat.
Ages
Elementary to early middle school
Why I like this activity
I used business card templates for the cards, so there is nothing to cut out!
It is colorful and students like color.
Students had fun when they played the game. They love it when I lose and I make sure I lose a lot!
Please let me know if you can use more key signature games or worksheets.
Please follow and like us: