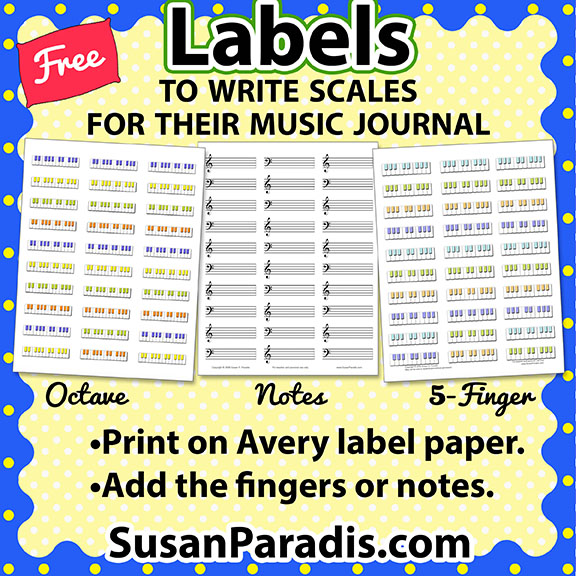 I really have enjoyed using the keyboard 5-Finger scale labels I made a few weeks ago. However, some of my readers  asked if I had thought about making two octave labels so they  could write out full scales.
At first I was afraid they would be too small for the size label I have, but after trying it out,  I think they are big enough to at least put dots on the keys. You might not be able to write in finger numbers. If you don't want to buy 1″ X 2 5/8″ address labels, you can cut them out and tape them on your student's assignment books. That is what I did when I first tried them out.
There is a wonderful 3M Scotch™ brand tape that is removable. It's rather hard to find, and more expensive than regular tape, but I always keep some on hand. You can tape one of these little keyboards on their assignment book and the next week remove it and place it on a new page. If you do this, you won't have to buy labels, and the tape is a lot less expensive than buying address labels. The tape works like those little yellow sticky notes that teachers love so much. It is sold in either a roll that you have to put in your own dispenser, or sometimes I find it in a plastic dispenser like regular Scotch™ tape. I think I usually buy it at craft stores, and when I do I stock up. It lasts me a long time, because after all, you can move things around and use them over and over!
Click here for the 5-finger and treble and bass staff labels:
I made the octave labels in brighter colors than the pentascale labels to help from getting mixed up.  The five-finger labels can be found here.  If you have any questions about how to print out these labels, contact me!
SaveSave
Please follow and like us: