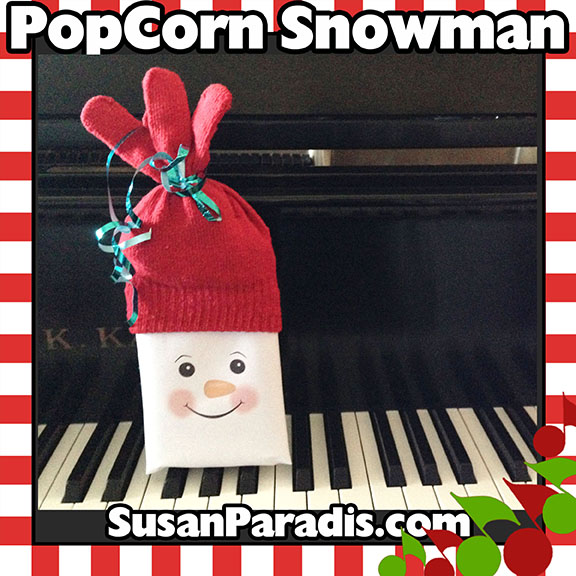 This microwave popcorn snowman is a fun and easy gift for your students. I don't know about your family, but mine were forever losing their gloves, so I always had a supply in my coat closet.
I made this craft for less than the cost of a nice-sized candy bar from the grocery store! I'm not sure where I first saw the idea, maybe Pinterest, and I thought it was so cute that I used it for piano student gifts one year.
All you have to do is print and then cut out the snowman face. (Your students might notice it is the same snowman I drew for the snowman bingo game I posted last week!) Each snowman uses one individual package of microwave popcorn, and I bought mine at a discount store. Cut out the snowman PDF posted above, and wrap it around the popcorn package. I taped the back with double-sided tape but you can use any tape or glue.
The "hat" for the snowman is a pair of stretch, one-size-fits-all gloves that I bought at a dollar store. Take one glove and stuff it into the other, then use colored ribbon to tie the fingers together to look like the top of a stocking hat. Puff out the inside glove to make it look more like a stocking hat. My older teens liked the black colored gloves, and I also used blue, pink, and green.
That's it, the easiest craft ever.
When I gave these to my students, one little guy looked up with real big eyes and asked me where I bought the glove. He solemnly told me he needed to know so that his mother could take him to the store and buy a glove for the other hand! So be sure and tell your students the other glove is stuffed inside! Even my older students were surprised to find out the hat wasn't just a decoration! I wish I could remember all the cute things my students have said over the years!
Please follow and like us: