Description
🎈🐸  Your young piano students are going to love Fun with Frogs Book Two, a 41 page all-in-one, sequential approach to teaching beginning piano to young children either in groups or private lessons. Three adorable green frogs are designed to delight young beginners who can identify numbers 1 through 5 and letters A to G. Book Two continues to add to the concepts learned in the first book in the series. The whimsical frogs take children on a musical  journey starting with learning the names of piano keys. In a gradual process starting with C and F, young children learn to identify all the piano keys. They also move from playing on the the black keys to playing on the white keys with fingers 2, 3, and 4. They learn about stepping and skipping keys, enjoy a composing activity, and how to draw and count half notes.  Material includes worksheets, games, listening, pre-reading (off the staff) piano music, hands on activities, and other printables. It is also a resource to supplement method books for children who need more help.
You asked for material simple enough for younger or challenged students, and here it is!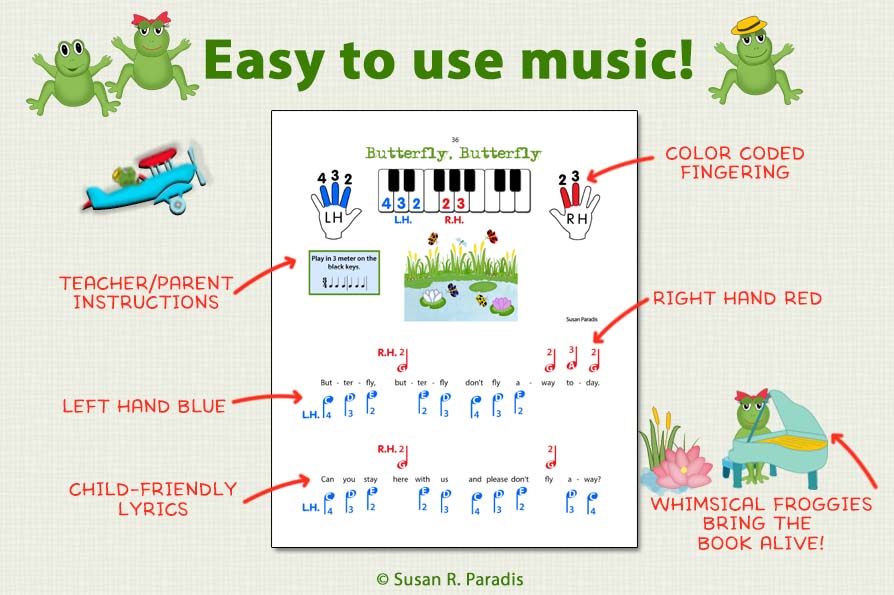 This well-rounded material can be used with:
* PRIVATE LESSONS
* SUMMER CAMPS
* GROUP LESSONS
* SUPPLEMENT TO METHOD BOOKS
* CHALLENGED STUDENTS
* PARENTS
* GRANDPARENTS
* HOME SCHOOL 
While teachers and parents recognize the benefits of learning piano at an early age, many piano teachers are reluctant to start younger children because of their special learning requirements. Preschool children need more time to learn basic concepts and need much more repetition and activities than average-age beginners. In this book concepts have a lot of repetition in the form of music, writing activities, and hands on activities.
Teachers find the methods they use with elementary students, such as using mnemonics to remember basic facts, do not work with children who can barely read and may not even know the alphabet. This book takes that into account. With a book you print yourself, you are able to print only the material you need for a particular student! And you can use it every year  without buying it again and print copies for all of your direct students.
THIS IS A STUDIO LICENSE, SO YOU CAN PRINT COPIES FOR ALL YOUR STUDENTS! 
There are a total of 41 pages including:
9 pre-reading pieces with lyrics to play on the piano
15 theory fun sheets to color, trace, or write
2 board games with cards and backs for cards
1 hands on activity
1 listening activity
1 finger skill page
List of children's songs and rhythms
Color cover for the book
Printable spines for a binder in 3 sizes
An award certificate
General teaching instructions for the various activities
Table of contents
WHEN YOU ORDER IT WILL SET UP AN ACCOUNT AND THE LINKS WILL AUTOMATICALLY GO THERE AND YOU WON'T HAVE TO WAIT FOR AN EMAIL.
Please note this is a digital download and does not include a physical item. To speed up the download, I divided the pages into two bundles. You will receive links for both bundles.
Fun With Frogs contains 41 pages of PRINTABLE PDF pages including student pages, cover, certificate, binder spines, information page, instructions, and a folk song list. These are digital files for you to print yourself on 8.5″ x 11″ paper. When you order it will set up your account so your links will be sent there. If your internet provider allows it, your links will also be emailed to you. Please double-check the email you use as well as your PayPal account email so your links can be sent to the correct address. Once you have saved your file, you may print it yourself or use a print shop of your choice.
The easiest way to download your files is to set up an account when you order. Your links will be in your account when your order is processed.
To find your account later, select "Account" from the top menu.  
If you do not receive an email with the links, check your SPAM and TRASH folders and also make sure there are no typos in your email address. Be consistent with your email on both this site and your PayPal account.
LICENSING/TERMS OF USE
These files are for your private use. You have permission to make copies for the students you teach yourself in your private studio. Parents may print copies for their children. Do not share with anyone outside of your studio. If you are not a teacher, you have permission to use it with your family. Each teacher and/or parent needs to make a separate purchase and not share with teachers in a school or business. The original art is copyrighted and may not be altered or used. There are no refunds on digital products but email me if you have problems and I will work with you. Please see the FAQ for complete licensing requirements. Thank you for your purchase!
Please follow and like us: