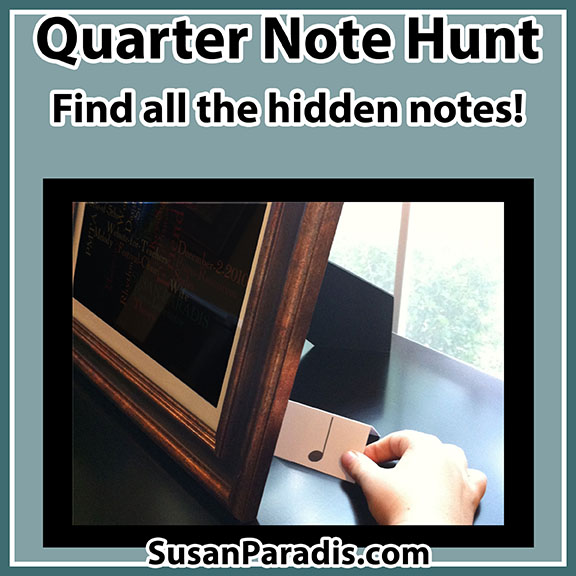 Do you want to be a piano teacher who has students that can't wait for lesson day? If so, then play some games with your beginners this year!
To help you out, my Throwback Thursdays for the rest of the month will feature some tried and true (free) games that will engage our beginning students.
Quarter note hunt has been one of my students' most popular games.  It is so easy and fast. Students dart around the room looking for certain rhythm cards, and they have so much fun. Your beginner students will really learn rhythm names fast when they play this game! They also learn that the names remain the same no matter what direction the stem faces.
There is not much planning, the rules are simple, and all you need is a few minutes to cut out and fold the cards. Plus, it is black and white and saves ink.
Print the pages on sturdy card stock and do not laminate the cards. Fold in the middle like a tent card with the note showing on one side.  After folding, the cards sit up like a tent. (See the picture above.)
Directions
Hide the cards in easy-to-find places around the room. (Do not hide too well, or students will not find them!)
Tell your student that you have hidden note "cards" all over the room. The student's job is to find and collect the ones with quarter notes (or whatever note you want to work on) as quickly as possible. Depending on how much time you have, you can play again, collecting a different rhythm.
This is also an excellent activity to introduce a new note to beginning students.
Variation
Use a timer to see how many quarter notes they can find in 2 minutes.
Label some containers with the notes so that students can sort the notes as they collect them. This is great fun for the younger ones.
Objective
To quickly learn to recognize rhythm note names
To distinguish between various rhythm values
To learn that stems can go up or down but the note name remains the same
To introduce rhythm names to beginners
Ages
Early childhood to grade 2 or 3, depending on how challenging you make it
I like this game so much, I even made some holiday versions, and a version with notes on the staff! It's one of those "perfect for the piano lesson" games because it is fast, one child can play alone, and they really learn something. Plus it's free and doesn't even use much ink! So if you haven't tried it, I hope you give it a try. Another teacher, Cecilly, sent me the idea for this game, and of course it has been used in many forms over the years. If you have a variation your students love, please leave it in a comment!
Please follow and like us: