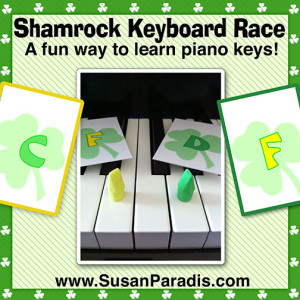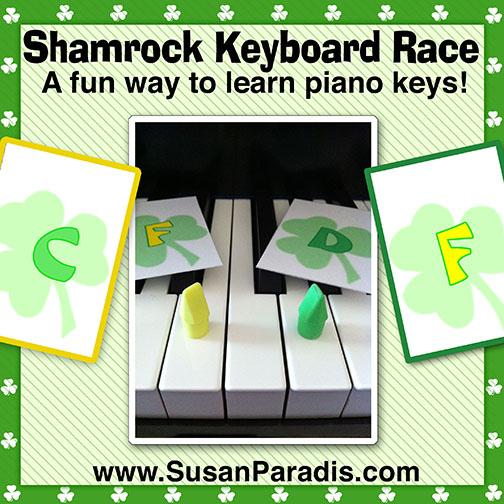 This is a game I made up to learn piano keys. I got the idea from my friend Cecilly who told me about a similar game to learn sharps and flats. I changed it around for learning piano keys, made some cards, and it kind of took on a life of its own!  It has become a staple for piano teachers all around the world.
Keyboard Race is played on the piano keys. It's fast and it works!  As a matter of fact, I like it so much that I've made a lot of different variations for each season and even baseball cards! I've even made cards with an H instead of a B for German teachers.  Check out the links at the bottom of this page.
Since these cards are not particularly cutesy, they are good for older beginners.
Objective
To quickly identify piano keys
To identify middle C
Optional: To identify B flat and F sharp
Materials
Piano keyboard
Keyboard Race Cards, one color for each player
Two tokens • Collectable erasers will not damage your keyboard and I have an extensive collection of cute erasers.
Directions
This is a two-player game, usually the teacher and student.
The teacher sits on the right side and the students sits on the left side of the piano bench, at each end of the piano.
Each player has one set of cards and one token, and places the their cards on the piano book rack. Shuffle the cards well.
The first player turns a card and moves his token to that piano key, the closest to his end of the piano.  The second player does the same.
Play continues with each player drawing a card and moving his token toward the middle of the keyboard.
The game is over when one player passes the middle of the keyboard. I like to use middle C with my young students.
Note: The player on the right side (treble end) usually loses, so that's where I sit. Games are more fun for students if they win.
Why I like this game
My students love it and want to play it over and over.
It is the fastest and most fun way to learn keyboard names.
Here are links to the game using different cards:
Pumpkin or Leaves Keyboard Race
Reindeer and Elves Keyboard Race
If any of these links don't work in the future, use the search engine on the right. A Google search will produce results, also.
Please follow and like us: