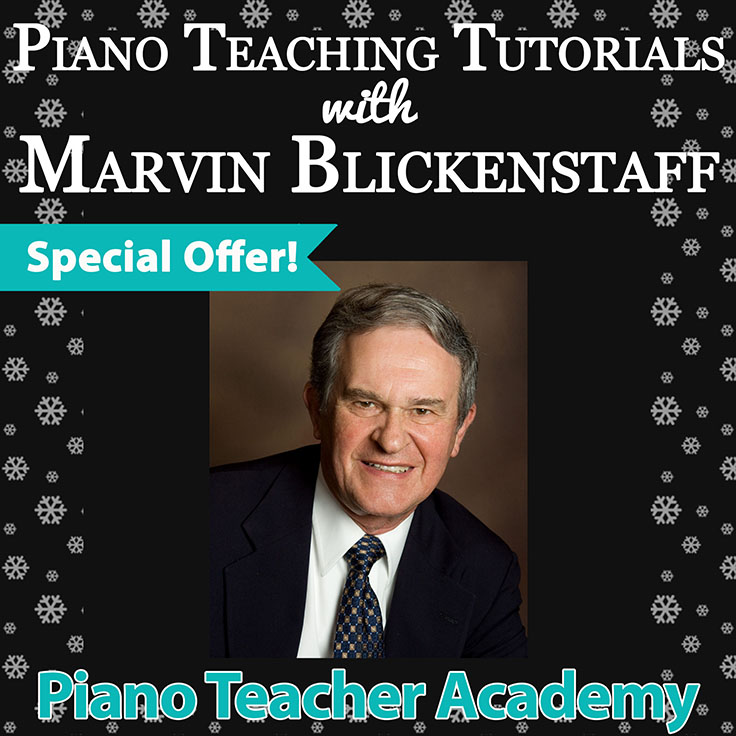 Marvin Blickenstaff is one of the most well-respected piano teaching experts around. He is an absolute treasure for all piano teachers, new or those like me who have heard just about everything. But there is something about Marvin, his nurturing, calm style, and his ability to know just what to say to students at any given moment that draws teachers, standing room only, to his seminars at national workshops and conventions. He is the real deal.
You might have read about his courses on Piano Teacher Academy. Now, Marvin Blickenstaff's courses are being offered as individual video courses and they are ON SALE! (but only through Dec. 2 at midnight central!)
During the upcoming holidays why not select a course or two to snuggle up in the privacy of your home while you learn more about teaching piano? When you begin teaching in January you will be refreshed and inspired to start the new year off right. You will have LIFETIME ACCESS to these courses, and no downloading of anything is required. They will be saved to your Piano Teacher Academy Account, so you can watch them again when you need inspiration. I am an affiliate sponsor of Piano Teacher Academy and I also have an account I can watch any time simply by signing in to their website. You can even watch them on your tablet while you travel.
Take a look here at each of the 3 sessions. CLICK the links to view a SNEAK PREVIEW of each video course!
1. Warm-Ups? Who Me? Technical Routines for All Ages (20% off)
2. Performance Practice Made Easy: Rules of Thumb for the Student (20% off)
3. The End is in the Beginning: Coaching a Piece to Performance (20% off)
but the BEST of ALL (at 30% off) is:
4. The Marvelous Marvin Bundle which includes ALL 3 courses above at only $119 or 2 monthly payments of $60 each!
CHECK OUT ALL 3 SNEAK PREVIEWS HERE!
I especially would like you to know that if you have any questions about any of the courses, you can do a LIVE CHAT with the founder and nationally known piano teaching expert Elizabeth Gutierrez. The LIVE CHAT MESSAGE US button is available right on the school page. 
Please follow and like us: