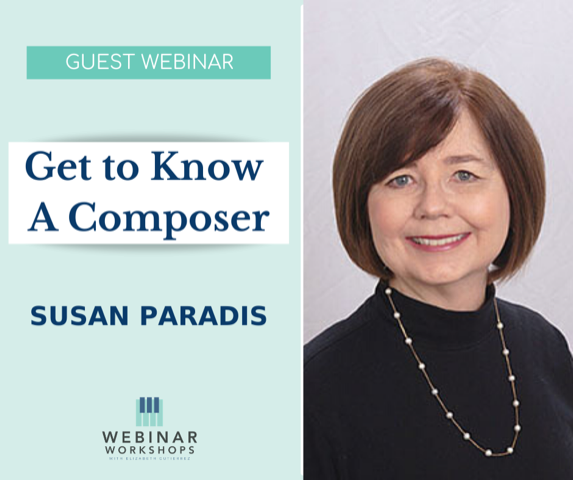 🎹❗️❗️IMPORTANT UPDATE! The webinar scheduled for Tuesday, April 7 has been rescheduled for Tuesday, April 14 at 10 am central time. Please join us at this new date!
I'm so excited to announce that piano pedagogy expert Elizabeth Gutierrez, composer and "teacher to the teachers", will be interviewing me Tuesday, April 5 in her live webinar series.
CLICK HERE FOR THE FREE WEBINAR
Join Elizabeth and I for a "Get to Know a Composer" WEBINAR this Tuesday, April 7, at 10AM Central! It's FREE and OPEN to ANYONE who'd like to attend the LIVE event.  A REPLAY will be made available to those who cannot attend in person. Feel free to share with anyone who may be interested.
Elizabeth and I will be chatting about my life's work as a musician, teacher, blogger, and composer. This is your opportunity to learn how it all started and how my mission and philosophy have influenced my compositions and the material I make for children and teachers.
You will have an opportunity to ask me questions and share your feedback with other teachers. Maybe you have some questions you would like to ask me about how to use games and hands- on activities.
I would love to get to know you. Plus, we'll have a few goodies for you, just for attending!
Here are the details:
Date: Tuesday, Apr. 7
Time: 10:00AM Central
Where to watch: Register to watch the webinar HERE!
NOTE: For the webinar you may use Chrome, Firefox, Safari, Microsoft Edge or Internet Explorer web browsers. MOBILE USERS – You may log on with your Android device using your native web browser and IOS devices can access via Safari.
CAN'T MAKE IT? A replay will be available for 96 hours afterwards. Register for the replay HERE!  Afterwards, at a later date, this webinar will be placed inside Webinar Workshops. Webinar Workshops is an archive of all previous Piano Teacher Academy webinars. Once subscribed you'll have access to this guest webinar and others. Go HERE to sign up. Unsubscribe at any time.
Please follow and like us: