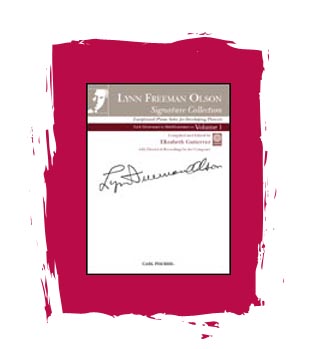 Lynn Freeman Olson (1938 – 1987) was a piano teacher, author, and composer. His teaching compositions are a major contribution to 20th and 21st century piano pedagogy. Olson introduced new and different contemporary sounds to our teaching repertoire, including interesting meters, rhythmic patterns, harmonies, and quick shifting chordal patterns not commonly found in teaching pieces in the early 1970's. 
Last year Carl Fischer issued a set of 3 books, Lynn Freeman Olson, Signature Collection, edited by Elizabeth Gutierrez. The 3 volumes complete with CD contain many of the favorite pieces he wrote while associated with Carl Fischer.
 The first volume contains elementary to late elementary pieces such as Silver Bugles, which students love. Electronic Game, written in 1981, is still fun for students today, with its "My turn, your turn, bong, zap" written in the score. Another one my students love is Yankee Doodle Drum, so simple you can teach it by rote, yet very effective. On the Run, with the quick patterns in 5ths that move all over the keyboard is another one that is easy but sounds hard. Few of the pieces in Volume One contain words, making them appropriate for all ages of children. They help students get out of one position and move all over the keyboard and they do it in such a fun way. Students need to have supplemental music they really love to play and show off to others if we expect them to stay in piano. 
  The pieces in Volume Two are late elementary to early intermediate in difficulty. This volume contains one of my all-time favorite pieces, Rhythm Machine.  Some other favorites of my students are are Sunbird, Sonatina Americana, and Wheels, among others.  While they especially appeal to boys, Sunbird was one my daughter's favorite recital pieces when she was young. And I have never had a student who didn't love Rhythm Machine, which has become a classic in the piano teaching world. If you are not familiar with L. F. Olson, you might want to start with this volume.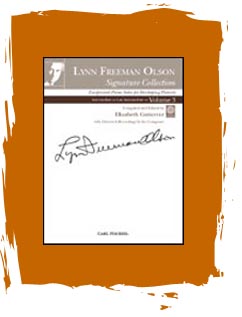 Volume Three is intermediate to late intermediate and has some wonderfully imaginative pieces with unexpected twists and turns that will intrigue students. Every piece except for the just for fun Yankee Doodle Boy is a National Federation Selection, as are almost all of the pieces in all three volumes. Volume Three contains a varied selection of music in many styles, contemporary, impressionist, and romantic, all of which are fun to play, and are very showy at recitals. There is something for everyone here. Many of the pieces in this volume are only 2 pages in length, which can be helpful with certain intermediate students.
 The CD's that come with each of these volumes are very well done. I was amazed that Lynn F. Olson himself performs some of the pieces, which were recorded in 1971-1972.  Back when he recorded them I was still a college student and the personal computer was not invented. Now, almost 40 years later I am sitting here at my computer, listening to him perform works my students have played over the years and blogging about them.
The remainder of the pieces on the CD are  thoughtfully and lovingly performed by Elizabeth Gutierrez. Piano pedagogy VIP's Martha Hilley, Joanne Smith, and Marvin Blickenstaff wrote the forwards at the beginning of the books. This is a testimony to the high regard Olson is held in the piano education field.  In the 2-page biography at the beginning of the volumes, it states Mr. Olson wrote over 1,200 works for piano in addition to writing music for a successful radio show and for the TV show Captain Kangaroo. He studied piano pedagogy with Frances Clark and composed music for The New School for Music Study directed by Frances Clark. She was a great influence to him as a piano teacher and composer. He co-wrote with Marvin Blickenstaff and Louise Bianchi the highly regarded piano method Music Pathways.
For years his piano music has been a favorite of piano students around the world. Whether you are a new teacher and have never heard of Lynn Freeman Olson, a teacher who played this music as a student and wondered if it was still in print, or a teacher with many years experience who would like to use more of his music, check out these volumes. I am so glad Carl Fischer came out with these books, which are leveled better than some of his original collections of pieces. The books are only $8.95 and each includes a CD. You can visit the Carl Fischer web site for more information.
Please follow and like us: