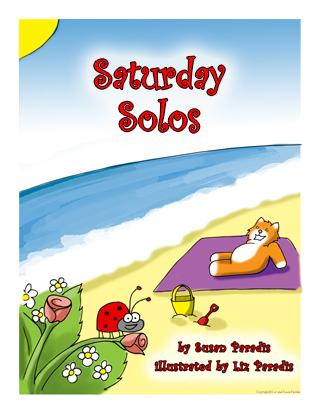 I am excited to announce that my talented fellow blogger and knowledgeable tech guru, Jennifer Fox, has written the very first review of one of my piano books, Saturday Solos! In celebration of this exciting event (for me!) she is having a giveaway of a digital copy of Saturday Solos! Plus, it is on sale right now.
So hurry over to Jennifer's blog, read all about the book,  and enter the contest. The link is  http://fpsresources.wordpress.com/2014/01/29/saturday-solos-review-and-giveaway/
This digital copy comes with an unlimited license, so you can use it forever to print either the entire book, or print out certain pieces for students and put it in their binder. If you want to save ink, don't print the cover or the index. The cover is cute, but it takes some ink!
Sometimes I print the entire thing at home and take it into Office Depot or Staples and ask them to spiral bind it for me. I print the cover on card stock and then include another piece of card stock for the back cover. I keep on the look out for sales on color copies and/or binding because I can really save that way. Also, if you are a member of MTNA, there is a big discount on binding and color printing at Office Depot. Regardless of how I print it, the costs involved with the book are deducted from students' book fund. 
The music in Saturday Solos falls between Primer and Level 1. It is a good book for the student who has finished Primer but is having trouble with reading steps and skips. It is appropriate for elementary children up to about 4th grade, although I had a 5th grade student who loved it!
Please follow and like us: