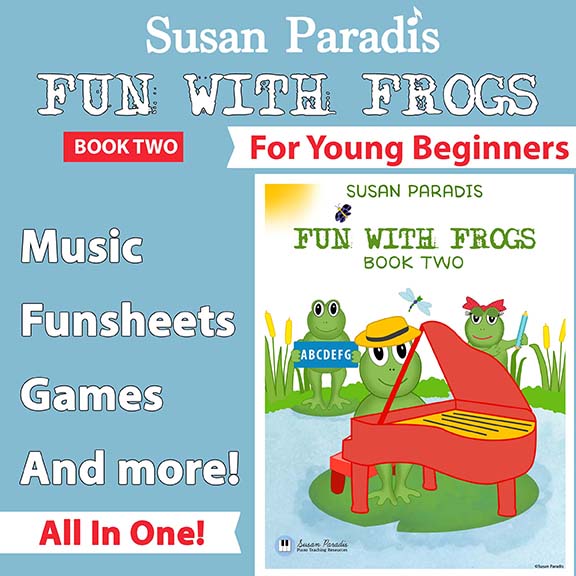 Check it out in the game store!
🎈🐸  Your young piano students are going to love Fun with Frogs Book 2,  a 36 page all-in-one, sequential approach to teaching beginning piano to young children either in groups or private lessons. Also included are teacher instructions, cover, binder spines, a certificate, and table of contents.
Book Two continues to add to the concepts learned in the first book in the series. The whimsical frogs continue on their musical  journey starting with learning the names of piano keys. They also move from playing on the the black keys to playing on the white keys with fingers 2, 3, and 4. They learn about stepping and skipping keys, enjoy a composing activity, and how to draw and count half notes.  Material includes worksheets, games, listening, pre-reading (off the staff) piano music, hands on activities, and other printables. It is also a resource to supplement method books for children who need more help.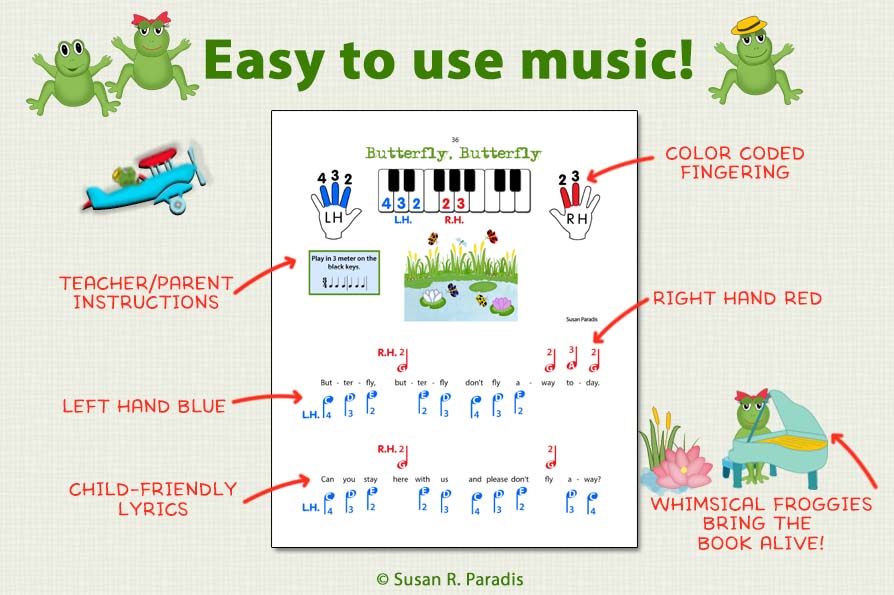 This well-rounded material can be used with:
* PRIVATE LESSONS
* MUSIC CAMPS
* GROUP LESSONS
* SUPPLEMENT TO METHOD BOOKS
* CHALLENGED STUDENTS
* PARENTS
* GRANDPARENTS
* HOME SCHOOL 
While teachers and parents recognize the benefits of learning piano at an early age, many piano teachers are reluctant to start younger children because of their special learning requirements. Preschool children need more time to learn basic concepts and need much more repetition and activities than average-age beginners. In this book concepts have a lot of repetition in the form of music, writing activities, and hands on activities.
Teachers find the methods they use with elementary students, such as using mnemonics to remember basic facts, do not work with children who can barely read and may not even know the alphabet. This book takes that into account. With a book you print yourself, you are able to print only the material you need for a particular student! And you can use it every year  without buying it again and print copies for all of your direct students.
THIS IS A STUDIO LICENSE, SO YOU CAN PRINT PAPER COPIES FOR ALL YOUR STUDENTS! 
Please follow and like us: