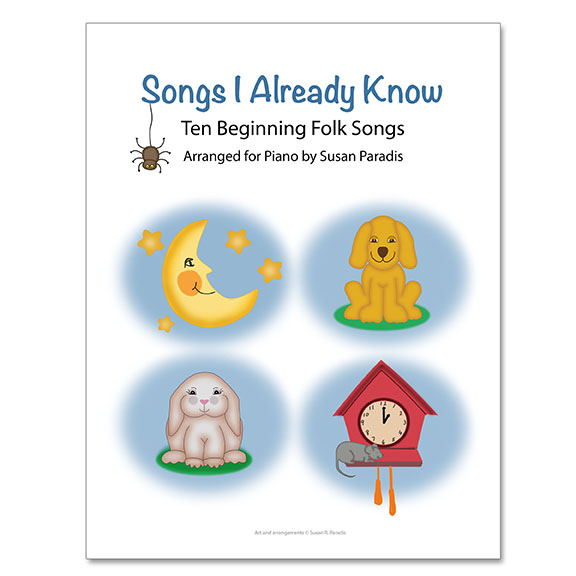 Students love to play songs they know!
Songs I Already Know is a collection of 10 well-known children's songs arranged for young beginners with lyrics, duet parts, and hand drawn illustrations.  The melodies are written in a variety of 5-finger hand positions on or near middle C to encourage children not to associate a finger with a certain piano key.
Duet parts for parents or older siblings!
Each student part is complete with a primer level melody divided between the hands and lyrics. But there is an optional, easy accompaniment for each song. Parents and siblings often have trouble reading two hands on one staff, which is how most teacher duets are written at this level. However, the accompaniments in Songs I Already Know are written on the treble and bass staves like regular piano music, which makes it easier for parents and older students to accompany the melody.
Songs include:
Twinkle, Twinkle, Little Star
Down by the Station
London Bridge is Falling Down
Eency Weeny Spider
Are You Sleeping
Hickory, Dickory Dock
It's Raining It's Pouring/Rain, Rain, Go Away
Do Your Ears Hang Low
Bingo
The Farmer in the Dell
This is a great book for sight reading, students who are not ready to go on to the next level, or a supplementary fun book. It's fun because most students are familiar with the songs!
Check out this book in the Store section to see samples of the songs. Thank you for supporting this website by donations and purchasing music!
This is a studio license, so a single teacher can make unlimited copies for years of playing.
Please follow and like us: