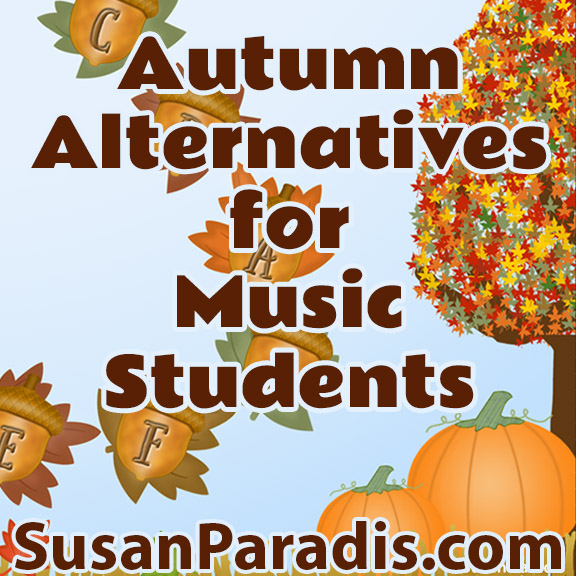 If you have students who don't celebrate Halloween, there are plenty of free alternatives to Halloween games, worksheets, and music on my site. Today's Throwback Thursday will feature some Autumn themed educational piano activities your students will enjoy while they review important music theory concepts.
[Nostalgia alert!] I was raised in a gentle time in a small town where we didn't lock our doors. Halloween was really a little children's benign activity where I got to dress up like a nurse every year until I outgrew it and switched to Annie Oakley. No one worried about neighbors giving out homemade treats. In fact, no one over fifth or sixth grade went out. That would have seemed so odd. But I am well aware that times have changed, and nowadays, if teachers use Halloween music they usually check with parents. Still, there are many autumn/harvest festivals where students dress in fun costumes and can show off their mastery of D and A minor! 🙂
I'm also including some music, both free one-page sheets as well as recital pieces in my store. It's no secret that one of the reasons students like Halloween music so much is because of the minor sounds. So I'm including some music that have a minor sound students love to play.
Games
Scarecrow Stomp – board game to review note names
Autumn Rhythm Tic Tac Toe – work on rhythm values
Pumpkins and Leaves – classic game to learn piano keys
The Pumpkin Patch – reinforce note names
Kandy Keys – a staff to construct key signatures or notes
Worksheets
Pumpkin Worksheets – review notes
Pumpkin Notes – notes on a big staff
Fall Composing Activity – beginning students write their own melody
Autumn Acorns – worksheet for the ACE guide notes
Pumpkin Music Math – review rhythms
Music in my Store 
Please follow and like us: