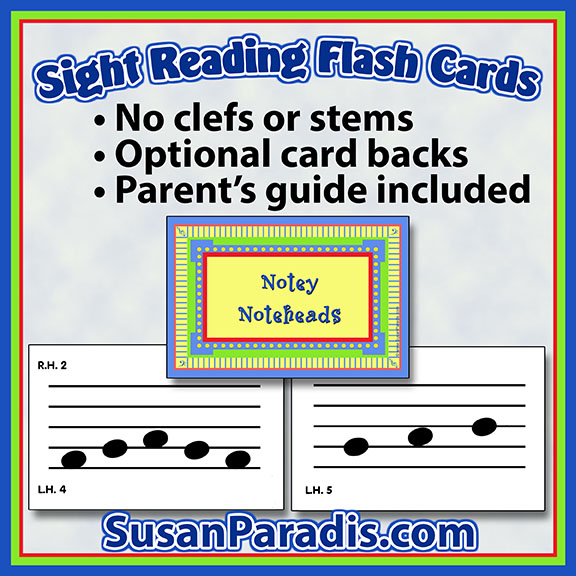 I  decided to make a new set of pre-reading cards, a set that both teachers and parents can use. With that in mind, I made them the size of playing cards with only 3 pages to cut out. There is one page each for steps, skips, and repeats. I also included a very detailed parent/new teacher instruction guide that took me a lot of time to write, so I really hope it helps. Trust me, if you only show these cards to parents, they make no sense. Once parents see how they work, they are delighted to know they do not need to know how to read music to help their child! I loan these cards to parents, but you can also email parents the link for them to print. Remind them they are free!
Parent's guide and card backs are included in the file
There are 5 pages included in this printable. The first 3 pages are the cards. The 4th page is the colorful back to the cards, which seems really important to my students, because it makes it more fun. Children are very visual and are attracted to colorful images. The 5th page is the guide for parents. For those of you who have no idea how to print on the back of cards, or how to print only the first 3 pages,  I posted a tutorial on my FAQ page. Scroll down to read it. When cutting out the cards with printed backs, use the colorful side as your cutting guide.
Daily use of these cards when students are learning notes that move up, down, and repeat can make a big difference in their music reading abilities.
They can help both the precocious child, and the child who needs lots of extra help.
One more thing. Start with the stepping cards. If students have not been introduced to skipping notes, save them for later. Be sure to tell your parents which cards to use.
Please follow and like us: