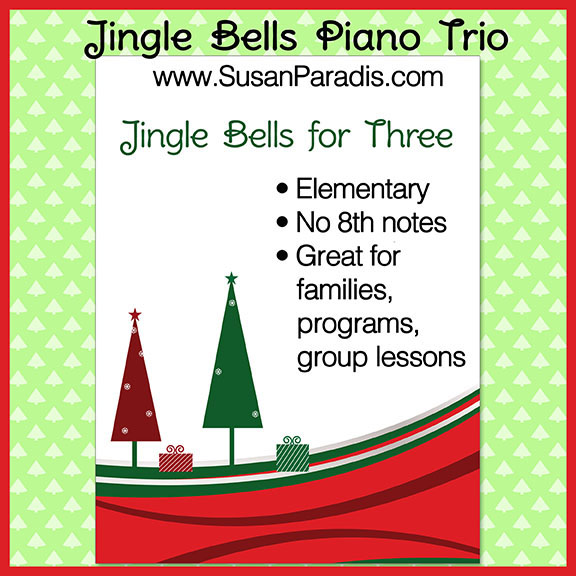 Jingle Bells for Three $7.99
A piano trio for 6 hands and one piano
Every year I write a piano trio for my students to play at their December group lesson. They are always fairly easy so that busy students can learn them quickly and have a lot of fun with them. Older students can sight read them and less experienced players can practice them in advance.
Today I am adding my piano trio arrangement of Jingle Bells for Three (17 pages $7.99) to the store section of my website.  This is a studio license, so a single teacher may print unlimited copies each year. Buying trios digitally allows the music file to include scores in various configurations so the teacher can print they want. This file includes individual parts, a teacher's (conductor's) score, a traditional piano trio score, and the cover.
Jingle Bells for Three is really easy because I wanted something for my youngest group.  We started practicing it in November and the group lesson was in December. They were really proud of themselves. I had a few students who had just started, so they provided the jingle bell accompaniment. I had some families use it for their Christmas family gatherings. I even have parents who read a little music come in to the lesson for an impromptu rehearsal. It is such a joy  to play together just for the fun of it!
Please follow and like us: