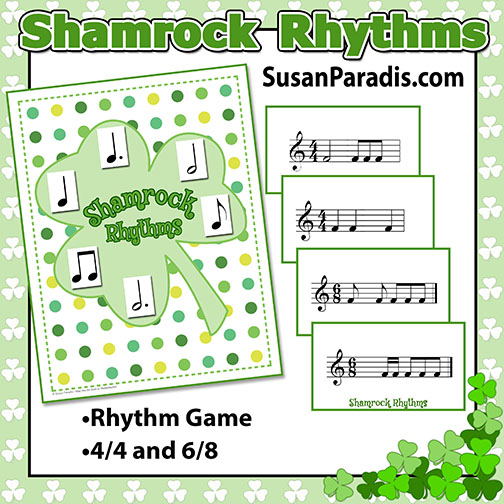 Shamrock Rhythm is a game to find the missing rhythm value in a measure. There are two pages to print out, a game board and the circled shaped cards. Each measure in the cards has a note left out. There are two measures for each note value, but you can play a quick version and use one card per note.
Print both pages on card stock. Laminate and cut out the circle cards. They would look cute printed on green card stock, but the light green shamrocks will not show up. Laminate the game board.
Place the cards upside down in the middle of the shamrock on the circle.  The student will draw a card and place it on the note or notes that are missing in the measure. (Notice that in 4 of the cards, one beat is missing and the student may put it on  either 2 eights or the quarter note. It doesn't matter which one.) When all the cards are placed, the game is over.
.Of course, there can be many variations. Maybe you can print out 2 or more game boards and play this at a group lesson. You could use a stop watch and let students race. Or you could see who can cover their notes first. There are endless possibilities, which is how I like piano games to be because we have students with so many different ability levels.
FYI, you may notice that I have 2 cards  that have empty measures. Those are for the whole note and since they are the same, you can omit one if you wish.
[I recently remade the printable for this game. The old version used a ton of ink. By changing the pattern to dots, this version is a lot more printer friendly.]
Please follow and like us: