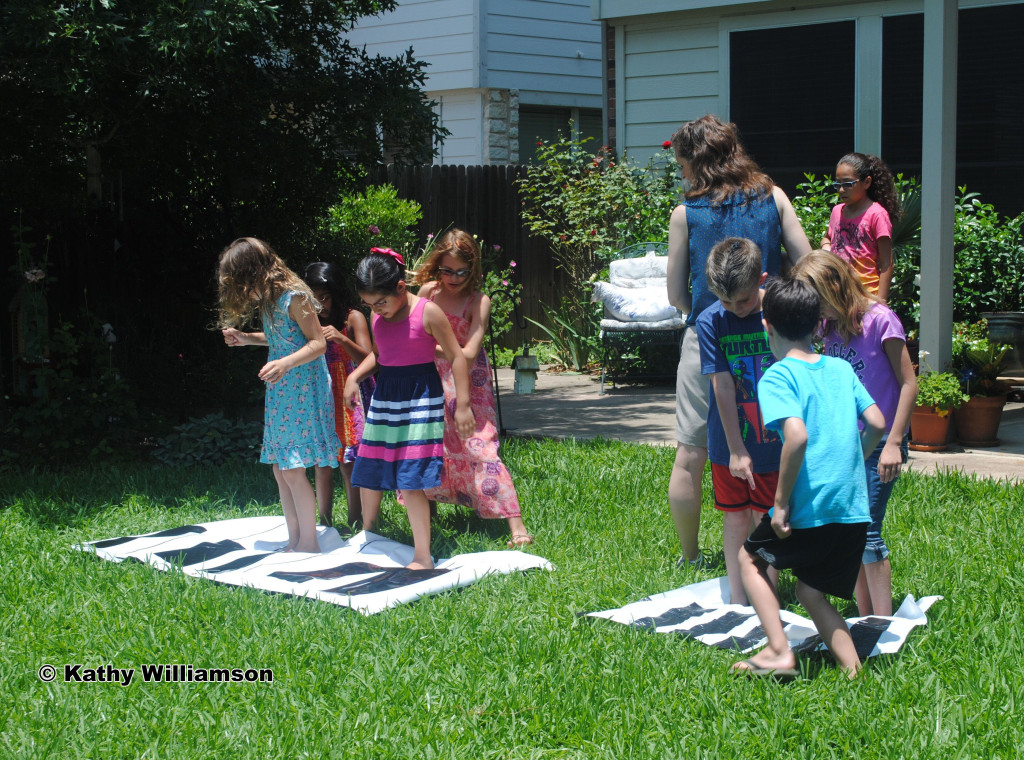 When Kathy Williamson started telling me about the summer piano camp that she organized with some other teachers, I knew that I had to share it with my readers! It was such a well organized and fun camp, but what else can you expect from experienced elementary classroom music teachers?  If you are not used to working with groups of children, getting together with another teacher would be a great way to start a camp.  And now is the time to start planning for next summer. Kathy graciously wrote the following article to share her experience with you. 
Summer Piano Camp Experience
One of life's fun adventures is our vision of what can be!   Our life experiences continually build those visions, so when three music classroom teachers joined together to think of the possibilities of Summer Piano Camps, the visions turned into 4 Piano Camps for ages 5 – 13.
The Piano Camp Team:  Carmen Carpenter currently teaches in the elementary music classroom as well as private piano and voice students at home.  Lindy Peterson has also been teaching elementary music but is now leaving the classroom to open a full-time piano studio.  Kathy Williamson has retired from public school music teaching and currently has a full-time piano studio of 34.  So developing musicians has always been their vision.
The planning began in February with work on a logo, website pages, brochure, setting up PayPal, choosing a location and of course, lesson plans!  It was decided that our neighborhoods were the best choice for locations as that is where the children are, so our homes became Camp.  The first two camps were held the first week of summer vacation at Kathy's house with 4 campers in the morning and 12 campers in the afternoon.  The third camp was at Carmen's where she did a combo camp of Discovery and Adventure objectives and activities for 4 children with little to no experience.    The fourth camp was at Kathy's house again for a group of 6 late elementary to early intermediate piano students.  Furniture was rearranged – keyboards were set up – and Camp was in full swing!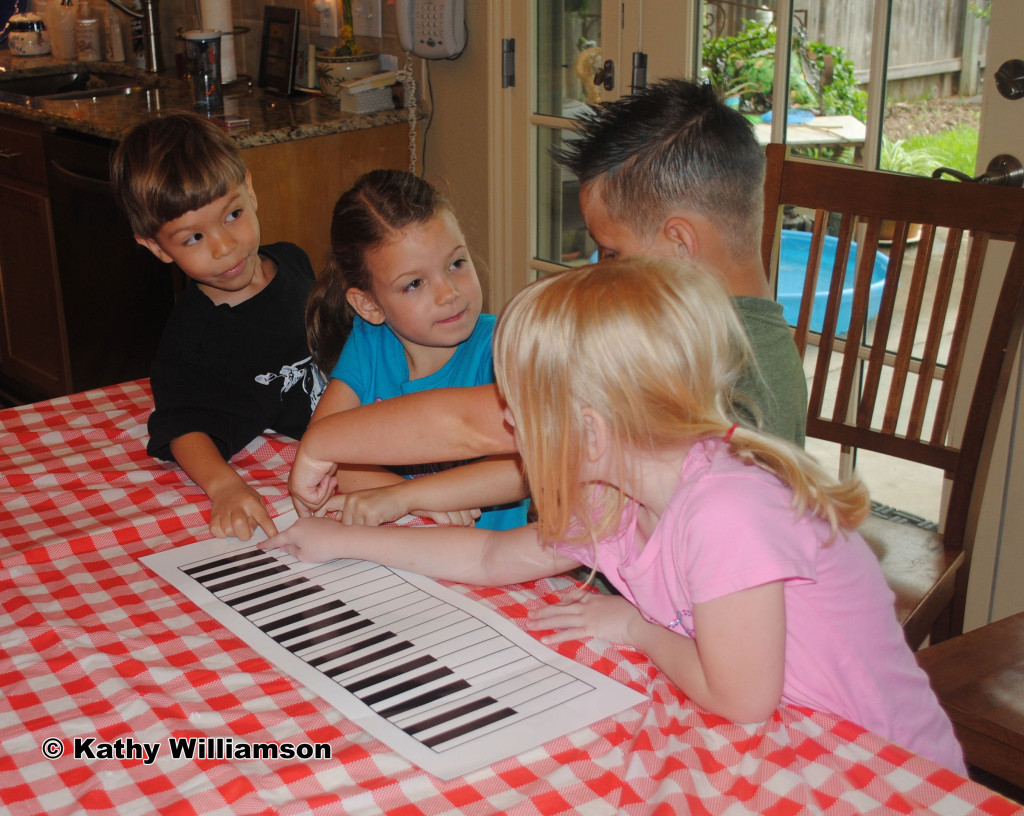 Discovery Camp was for beginning 5 and 6 year olds – children with no experience at the piano.   Monday-Friday, 9 AM – 11 AM:  5 days, 10 hours.  The daily schedule:
9:00 Outside Games
9:20 Keyboard
9:40  Lapbooks
10:00 Snack – Outside
10:10   Keyboard
10:30   Outside Games
10:50   Keyboard
The goals for Discovery Camp included topography (not technique), associating that each finger has a number and a purpose, beginning rhythms, and playing simple songs on the black keys and the music alphabet.  No staff work was introduced.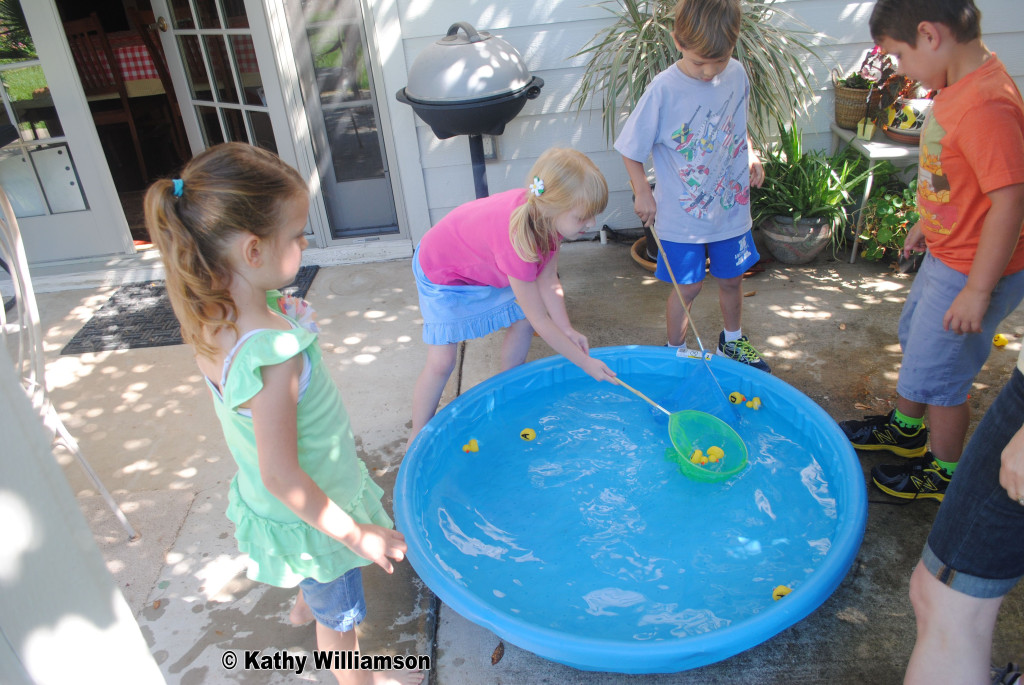 Adventure Camp was for ages 5 – 10 – children at the early and middle elementary level or older beginners.  Monday-Friday, 1 – 4 PM: 5 days, 15 hours.  The daily schedule:
1:00  Outside Games
1:30  –  1:50 – 2:10 Stations     (1) Lapbooks     (2) Games      (3) Keyboard
2:30 Break / Snack and Outside Game
2:45  –  3:00  – 3:15 Stations    (same groups with a continuation of learning)
3:30 Outside Game
3:45 Ensemble Keyboard  (ear training and ensemble work)
Since the majority of the campers at Kathy's house had a minimum of 6 months of piano, the main goals for this camp were to reinforce vocabulary, rhythm and reading skills.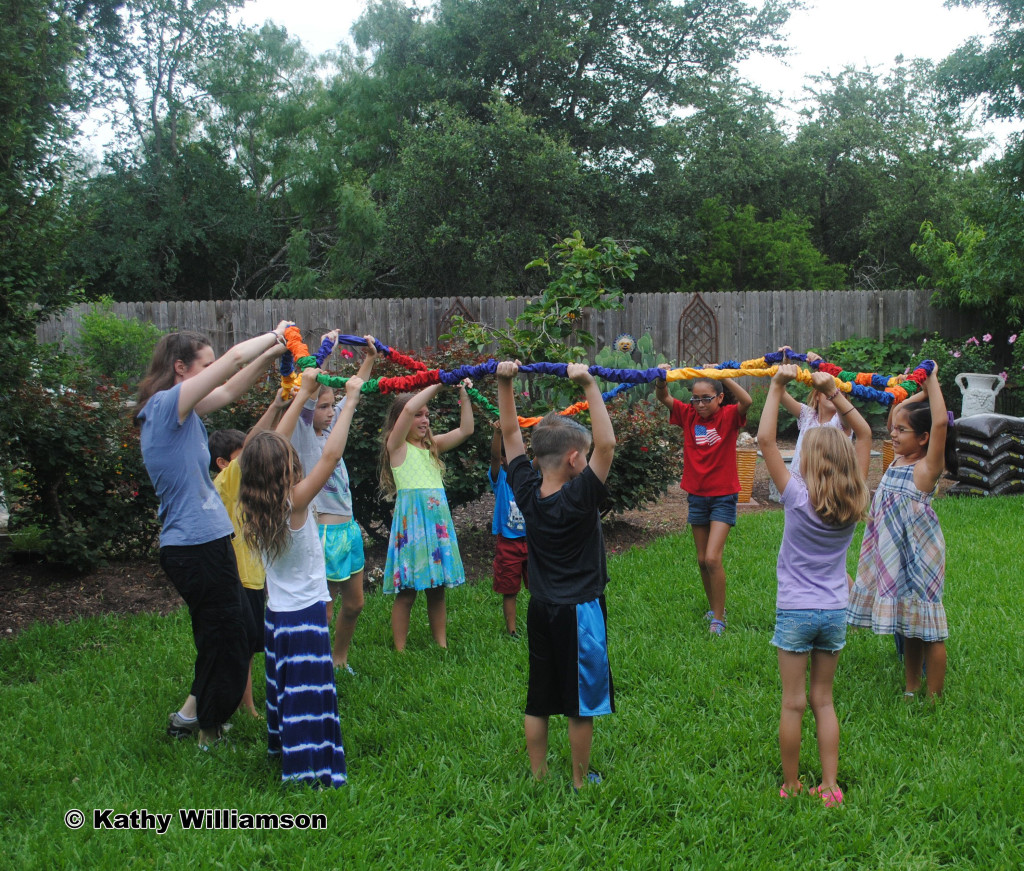 The   4th Camp, Kaleidoscope Camp, was for the Late Elementary to Early Intermediate Piano student.   Monday – Thursday, 9 AM – 3 PM, 24 hours.  The goal for these campers was to give them activities to inspire their growth and technique, provide opportunities to explore the keyboard and learn more about improvisation.   The daily schedule:
9:00 Outside Games
9:15 A conversation about what 1st lessons look like for 5 and 6 year olds.
This conversation led to reflection about their personal Piano Journey.
9:30-9:50-10:10 20 minute individual piano coaching
9:30 Piano Journey Notebook (creating anchor charts and starting a scrapbook of how their piano journey began with pictures and a brief history/Board Games/Cup Game
10:30 Break and Outside Games
11:00 Kabalevsky at the Keyboard  (24 Pieces for Children, Op. 39)
11:30 Lunch (each camper brought their own)
12:00 Special Guests
(Day 1:  Steinway resident artist, Esteban Alvarez)
(Day 2:  Piano technician, David Floyd)
(Day 3:  Claire Carpenter, high school student on how and why she uses lead sheets)
12:45-1:05-1:25 20 minute individual piano coaching
12:45 Keyboard Fun and Lead Sheets
1:45 Break and Outside Games
2:00 Kabalevsky at the Keyboard  (24 Pieces for Children, Op. 39)
Chopsticks: chords, improvisation and ensemble playing
This camp also squeezed in a trip to the local music store to tour their Piano Music Department and Keyboard Department with demonstrations in each.  The special guests and field trip were definitely a big hit with everyone.
SELECTING  THE GAMES AND MUSIC
Because there is a wealth of music games online via blogs and Pinterest, as well as games the team had developed and collected throughout their teaching experience, the task was definitely overwhelming in what to choose.   The important thing became matching the games and activities to the objectives and goals.  This just takes a lot of planning time and has become an inspiration to continue to organize the collections the Team has.
The music for the Discovery and Adventure Camps was a combination of music from the free music downloaded from the Susan Paradis collection, and music we created on Finale.
Music for Kaleidoscope Camp was inspired by Elizabeth Gutierrez's 'Piano Play Along' Blog : 24 Pieces for Children, Op. 39, by Dmitri Kabalevsky.  This was supplemented with piano lead sheets.  Wendy Stevens' Rhythm Cup Explorations was also selected as a fun way to practice rhythms with Kaleidoscope Camp.
CAMP DETAILS
There were many discussions about what the camp tuition should be, especially since three us were working together.  We basically decided on an average price comparable to the monthly tuition which seemed fair, plus a materials fee.
Setting up keyboards was really a challenge!  We had quite an assortment between the three of us.  Besides a grand piano we had an 88 key Yamaha digital, an 88 key Roland, six 61 key keyboards and two small 2/3 octave Casios which were great for demo purposes.  We used a combination of batteries and power supplies.  The biggest problem though was not having enough stools.  But an email sent out to parents with the need for stools solved our problem quickly.
LOOKING AHEAD
In our follow up discussions it was agreed that our camps were a success, the curriculum and games were a success and everyone (including us) had a good time.  With our combined classroom experience and Kodaly training, we value a strong curriculum and planning.  We  will continue to revise this to meet our student needs.  Since Lindy's and Carmen's studios are growing we are sure our camps will look differently next year but one thing we learned is the need to set our dates early and let parents know by January as they are already making their summer plans.
There are still many other things to consider in our future planning but we believe that to have a successful camp we need to be sure there are enough hours to meet the goals and objectives.   Of course we each would have made more profit if we'd conducted the camps individually – but we supported each other with an equal division of planning and teaching which definitely contributed to the overall success of our first Piano Camp experience.
 KEYS TO SUCCESS:
Planning with goals and objectives in mind
Activities that give everyone a break
Breaks that give children time to be themselves
Music that is fun and easy
Homework was given each day to continue the camp experience throughout the week
There are many things we did not address here such as the week the refrigerator was on the blink and the repairman had to listen to all the keyboards playing while he was trying to diagnose the problem.  We did not talk about the many details of running a camp out of your house such as fresh towels in the bathroom, water cups, buying snacks and supplies, etc.   We did not list the games or how we approached improvisation.  We did not discuss specific curriculums or how to set up stations.  We did not tell you about the profound effects of the special guests.  These are conversations for another day and another place.  However, the most important thing to remember is to have a vision – and for us that vision included happy children enjoying music while developing their musicianship.
I would like to thank Kathy for taking the time to write such a helpful, detailed article, and also thank her team and the parents for allowing me to share it with you. These students are so fortunate to be able to participate in a wonderful week of music right in their neighborhood! -Susan
Please follow and like us: