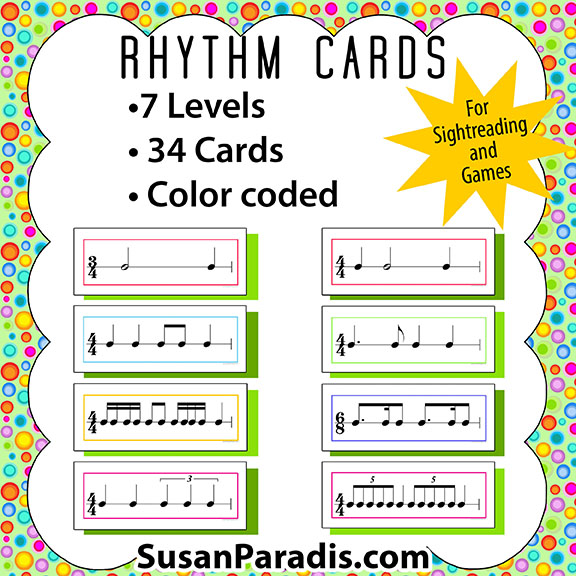 I'm back from a wonderful piano camp with Elizabeth Gutierrez and the nicest group of teachers you could ever want to talk to! I am so glad I got to meet them and to visit San Antonio again. Today I am posting a set of rhythm flash cards that are *color coded* so that I can quickly pull out the ones I need. That really helps me save time.  The flash cards start at primer level and progress up to intermediate. The levels below are not meant to go along with any specific method book, but are simply the progression I made the cards, especially at the later levels.
Red = Beginning Set
Aqua = Set  2A (8th notes)
Green = Set  2B (dotted quarters)
Purple = Set 3 (6/8 and triplets)
Yellow = Set 4 (16th notes)
Blue = Set 5 (dotted eighths)
Magenta = Set 6 (5-note tuplet and quarter note triplet) Please note the card with the quintuplets has been corrected.
These cards are in 3 separate PDF files to make it easier to print just the levels you need. There are 2 cards to a page. (My web go-to guy told me not to make my PDF files too big because it might cause the site to crash.) Remember to set your printer in landscape orientation. I can think of about 50 ways to use these cards, but that is a future post. I bet you can come up with lots of ideas!
Please follow and like us: