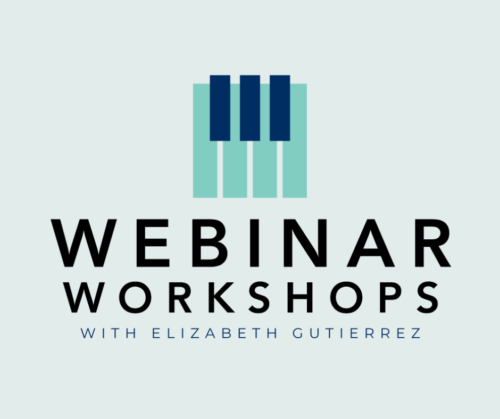 CLICK HERE FOR MORE INFORMATION
It one thing to be a wonderful pianist where the notes just roll off your fingers and thrill all your listeners. It is quite another thing to sit down with a student and try to explain how you do it. I remember when I first started teaching I had a student who said in frustration, "It sounds so good when you play it. Why don't I sound like that?" Most pianists just do it and it is hard to explain. But a teacher has to know the what, when, and how, or our students will never sound musical and artistic. This is when a professional, who for years has specialized in teaching piano teachers how to teach, comes in.
In addition to her many years teaching piano pedagogy at the university level and giving workshops all around the country, piano pedagogy expert Elizabeth Gutierrez has been presenting online piano teaching webinar workshops for piano teachers. We live in a age when anyone can put videos on the web, but Elizabeth is the real deal. There is a hard way and an easy way to teach difficult concepts, and Elizabeth always has a way that is easy for students to understand.
These video tutorials are filled with tips, tools, and focused strategies to help independent piano teachers solve the most commonly encountered problems in their studio teaching. You'll find numerous solutions you can take right to the studio such as: how to deal with collapsed finger joints, how to solidify a round hand position, how to teach rhythmic subdivisions with accuracy, how and when to teach legato with a young student. Primer level problem spots, tips for dealing with transfers and classical piano repertoire preparation are just a few of the topic areas touched on. Plus there is much more!  Click here to visit Webinar Workshops and view a few free previews now.
••• WHAT YOU WILL GET •••
♫ ♥️ You will receive UNLIMITED access to video replays of Elizabeth's past webinars and future ones! These mini teacher workshops for piano instructors, new and seasoned, deal with the problems encountered often in your teaching. Watch them whenever you wish!
♫  ♥️ Sessions for piano teaching at all levels, most of which are geared toward elementary to intermediate level teaching but always with a mindset towards teaching for the future.
♫  ♥️ Included also are Piano Play-Along and ReadAlong webinar discussions.
♫  ♥️ NEW! Members now receive exclusive access to NEW Guest Webinars, "Get to Know a Composer" Webinars, and Product Showcases.
♫  ♥️ Plus, all members will receive a 15% discount on the biennial Piano Camp for Piano Teachers summer webinar series. The next one is Summer 2020!
♫  ♥️ You'll also find repertoire overviews, Piano Play-Alongs, Read-Alongs, Guest Webinars, student demo videos, links to resources, and great suggestions from other teacher participants!
♫  ♥️ Elizabeth is continually adding additional topics that teachers express interest in.
••• ELIZABETH'S BONUS for ENROLLEES •••
♫  ♥️NEW! Interval Reading Cards for teaching intervallic reading. Interval reading is imperative to building good reading skills and Elizabeth shares ideas for how to use these cards inside the PDF and will show you on a Webinar Workshop!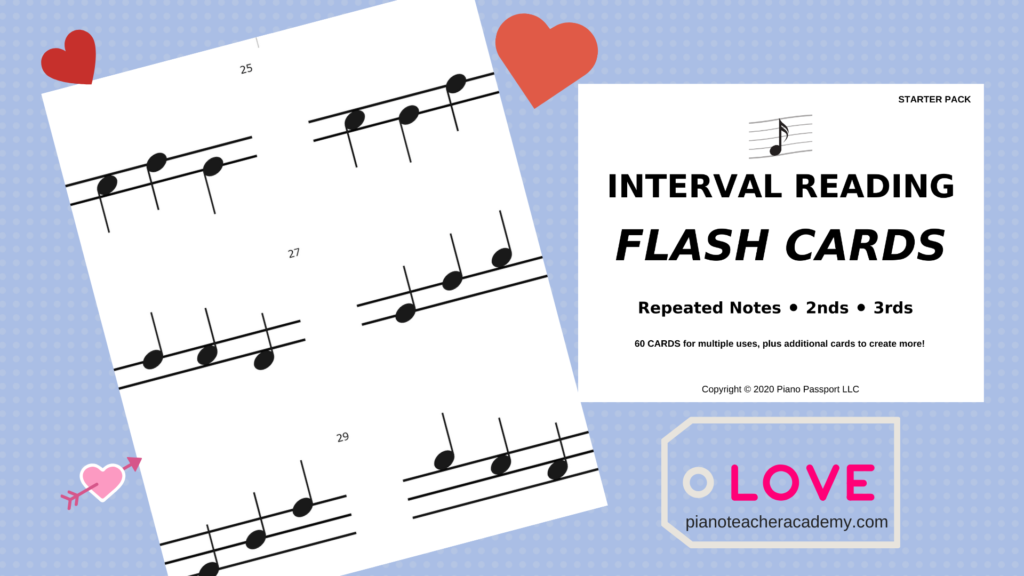 Please note, anniversary prices have expired. Here are the current prices.
$9 month (cancel any time)
$97 annually (cancel any time)
$157 one-time fee for FOREVER access!
No matter the subject, there is one thing that I know to expect from Elizabeth. She is an absolute master of taking something difficult and explaining it in a step by step and easy to teach manner. Technique concepts that are confusing to explain to students, well, she clears them up and makes it so simple. I still have the notes I took when I went to a workshop she gave years ago and I am still using those ideas!
[Edited to show current pricing.] I am a proud affiliate and sponsor of Piano Teacher Academy. The opinions are my own.
Please follow and like us: