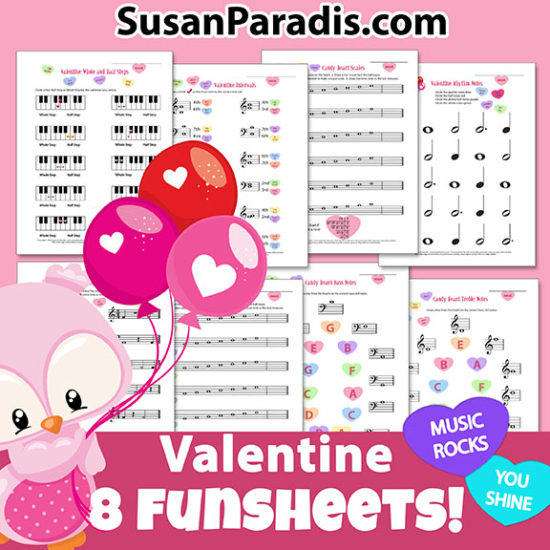 ♥♥Valentine Funsheets introductory price $4.99 until Midnight Feb. 14, 2020
❤️ Make your Valentine group lessons or your theory classes a little more fun this week with these cute valentine music theory worksheets. Reinforce important music theory concepts! And you can get them in the store at the introductory price until  Feb. 14, 2020. These printables are designed with teacher-pleasing features at several levels. Concepts include note identification, rhythm symbols, counting, scale and tonic note identification, intervals, and whole/half steps. None of the pages are time consuming. If we don't constantly reinforce these concepts, students forget them. I try to make review sheets as painless as possible! These affordable pages can be printed as many times as you need them.
There are eight pages of various levels included in this set.
✔︎ Candy Heart Treble Notes – note identification
✔︎ Candy Heart Bass Notes – note identification
✔︎ Valentine Rhythm Notes – rhythm identification
✔︎ Too Many Notes – cross out the extra note in each measure 
✔︎ Candy Heart Scales – keys of C G D A and E
✔︎ More Candy Heart Scales – keys of F Bb Eb Ab Db 
✔︎ Valentine Intervals 
✔︎ Valentine Whole and Half Steps 
Please follow and like us: