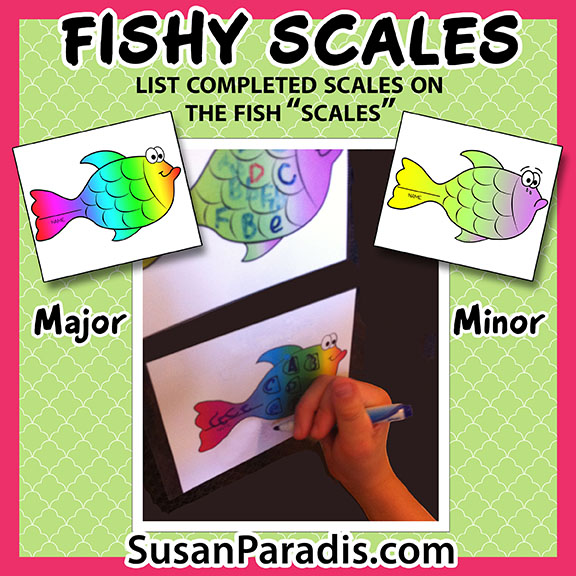 If you're not using Fishy Scales to motivate your students to practice 5-finger scales, cross-overs, or octave scales, you might want to try this out for the new teaching year with your elementary age students.  They are recently revised after a suggestion from one of my students to draw the minor fish "sad-looking." I'm sharing the new design with you. (The major fish is the same.)
Now it is easier to identify minor sounds because students can relate it to the fish. Younger students are always asking me why some of the fish are a different color, and this is a good opportunity to let them hear the difference in major and minor chords.
After I started using Fishy Scales my students practice their scales with more enthusiasm. I make a fish for each student, and as they learn a scale they are very excited to write the name in the "scale" on their fish. When they complete a scale set, I give them their fish to keep and we post a new one for the next set.
I keep them on my wall with  reusable lightweight mounting strips, which come in all sizes. They are very easy to remove when I don't want "fish" on my piano room wall, and easy to replace.
Print them out on card stock for best results, and cut each page on the lines. There is no need to cut out each fish individually. My students also write on the card what they are working on, such as Octave Scales or 5-Finger Scales.
Thanks to Arlene Steffen for the idea for Fishy Scales. It really is a lot of fun, good motivation, and is very easy for a teacher to implement.
Please follow and like us: