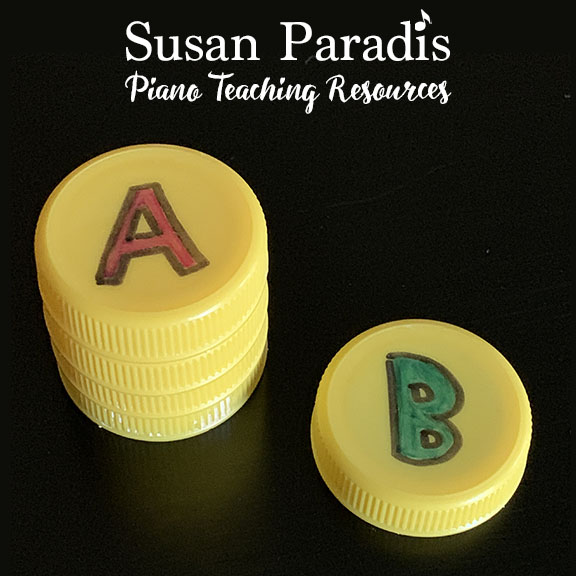 Many music teachers have beginning students right now, so I thought I'd post a really fun, fast, and easy way to learn the music alphabet. This is an activity for the average age or older beginner and it will not take very much time out of the lesson. In fact, they like to play with it while they wait for their lesson. Here is what you need:
• Plastic bottle lids, at least 8
• Sharpie or marker to label lids
You need at least 8 plastic bottle lids, the kind on milk or juice. If you don't have any, text your piano parents and ask them to send you some. They need to be the same type, and the screw-on ones work better than the pop-off variety for this activity. Write the letters on the top of the lid using the music alphabet and two A's: A A B C D E F G.
Students stack the lids one on top of the other starting with different letters each time. They quickly learn that after G comes A. Plus they have a lot of fun trying to keep the stack from falling down. You can even tell a lot about the student's coordination and maturity as they try to manipulate the lids.
Younger children have a lot more trouble balancing the stack, naturally. So either have them lay the letters out horizontally, or give the the task of stacking just a few. Be sure to start on different letters. Otherwise, they won't learn that A comes after G!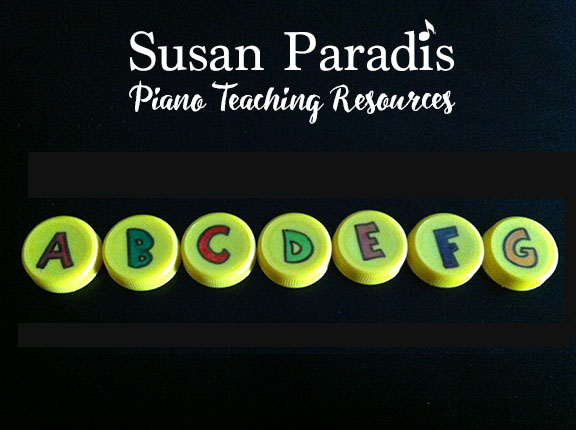 As you can imagine, these come in handy for a lot of activities such as skipping notes, intervals, and chords. There is nothing to print, nothing to cut out and they don't cost anything. So give it a try.
I'd also like to remind you this is the last day of the sale on Halloween and spooky sounding music (that doesn't mention Halloween) in my store. Stock up now for some fun music in minor keys that students love!
Please follow and like us: