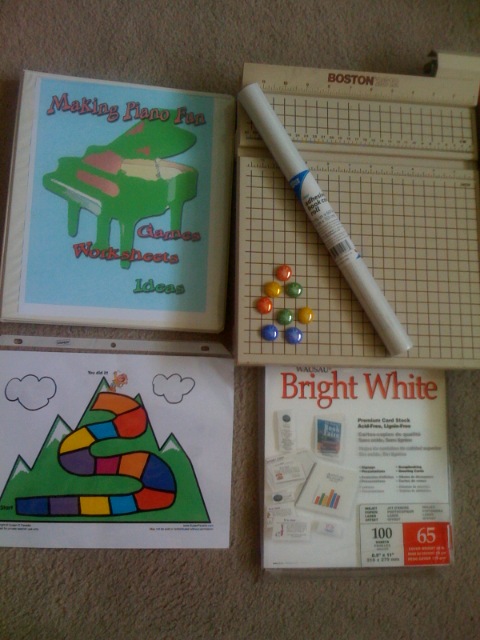 If you are like me, you collect all kinds of helpful teaching items from the web, workshops, and other teachers. It can start to pile up and if it's not organized I tend to forget about it. To help keep it useful here is what I do.
I print out everything that interests me and I write the web address on it if it is something I may want to print more of later. I put it in a sheet protector, bottom left in the picture above, and then a binder with a cover I made.  My cover says "Making Piano Fun", top left. Once your binder starts getting large, get some subject dividers and put your material into categories.
If it's something I need to cut up, I keep one copy intact and cut up another copy and put in the same sheet protector. Once something is cut up, after a few months I sometimes forget what it is!
I used to use file folders for my stuff, but I find sheet protectors and binders are so much easier to find things. Be sure to buy sheet protectors that don't require you to put holes in your worksheets and buy them in bulk because they are a lot less expensive that way.
On the top right you see my trusty paper cutter. I don't know what I would do without it because I use it all the time. It's very old and I don't think my brand is available any more, but I have seen them for a reasonable price at Sam's. If you use a lot of home made material, a paper cutter is very handy, especially if you have a lot of students like me. All my notices and reminders are done 2 to a page so the paper cutter has saved me a lot of paper over the years.
On the paper cutter there is a roll of clear adhesive book cover that I bought at Office Depot. I find it easier than clear contact paper that I used when I taught school before laminating machines were available. But check around because sometimes teacher supply stores will offer good deals on laminating. I don't laminate everything because it is not necessary.
Also on the paper cutter are colored glass drops that I use for game tokens. I bought them at a store that sells marbles for 15 cents each. For bingo games you need to either make tokens yourself by cutting out paper, which is easy if you have a paper cutter, or check around and see if you can find some little plastic discs. I found some on a web site for a very reasonable price.
On the bottom right is a good quality card stock that really makes my graphics pop out. I also use 32 lb. paper for some things because it is cheaper than card stock but holds up better than 24 pound paper. Twenty pound paper is just too light weight for all the color I use in my games.
I'm sure I've left off something, but if you have games and worksheets on every surface of your teaching area, this might get you started organizing it. If anyone would like me to post cover to use with your binder, let me know and I will.
Please follow and like us: